France: Bagpipes of Central France
Various Artists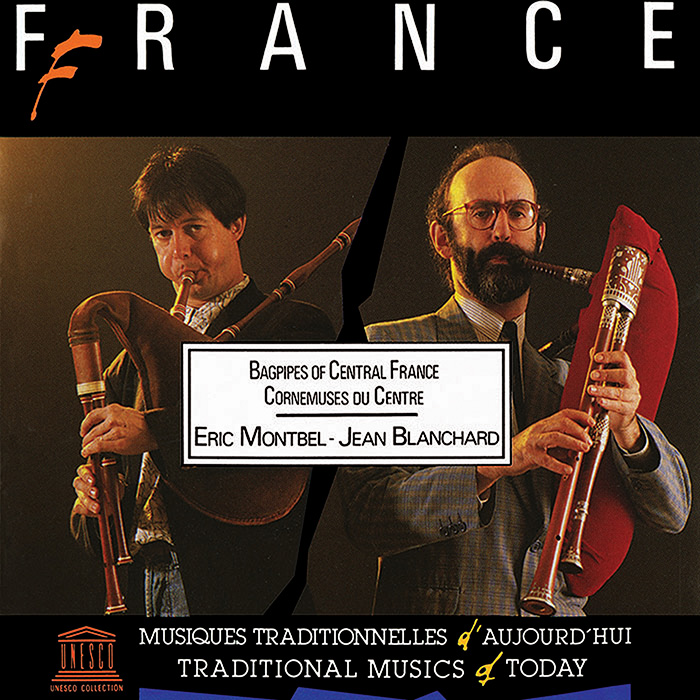 Although most often associated with the British Isles, bagpipes have been played throughout Europe for centuries. In France, the bagpipe, or cornemuse, remains an important instrument in French traditional music. In this recording, two of France's most recognized bagpipe musicians, Jean Blanchard and Eric Montbel, offer adaptations of the traditional music from the Berry, Bourbonnais, and Basse-Auvergne regions of central France. Both Blanchard and Montbel play musettes tuned to different musical keys, with Montbel playing the chabrette and Blanchard adding violin on several tracks. The informative liner notes are written by the performing artists.
FREE DOWNLOAD
Please enjoy a free download of the song "La Tricotada"
This album is part of the UNESCO Collection of Traditional Music. More than 125 albums are being released by Smithsonian Folkways Recordings to make the series publicly available, including a dozen never-released albums of musical traditions from around the globe.
Track Listing
| | | | | |
| --- | --- | --- | --- | --- |
| 101 | Par Un Beau Clair de Lune / Dessur le Pont du Rhone | Eric Montbel, Jean Blanchard | 3:25 | |
| 102 | Bourrée de Benoit / La Coulemelle / La Giatte du Coualhon | Eric Montbel, Jean Blanchard | 2:59 | |
| 103 | Le Retour du Jardinier | Eric Montbel, Jean Blanchard | 2:18 | |
| 104 | Laderititou / Polka du Lac | Eric Montbel, Jean Blanchard | 3:15 | |
| 105 | N'Aven Tan Dansa / Bourrée du Mauconten | Eric Montbel, Jean Blanchard | 2:59 | |
| 106 | Sur le Pont d'Auron | Eric Montbel, Jean Blanchard | 3:27 | |
| 107 | Le Juif Errant / Réveillons Réveillez | Eric Montbel, Jean Blanchard | 2:41 | |
| 108 | Briolage | Eric Montbel, Jean Blanchard | 2:52 | |
| 109 | Marche de Gavinet / Les Hussards de la Garde | Eric Montbel, Jean Blanchard | 2:23 | |
| 110 | Sur le Bord d'Une Fontaine / La Joliesse | Eric Montbel, Jean Blanchard | 5:39 | |
| 111 | Les Gateaux / Le Roi de Torelore | Eric Montbel, Jean Blanchard | 2:53 | |
| 112 | Chrétiens Réveillez-Vous / Jardin d'Amour | Eric Montbel, Jean Blanchard | 3:15 | |
| 113 | Bourrée de Thiers / Polka de Fort-Marais | Eric Montbel, Jean Blanchard | 2:57 | |
| 114 | La Corneille / Le Virelou | Eric Montbel, Jean Blanchard | 3:05 | |
| 115 | Le Chariot d'Or / Bourrée du Lac / Marijean / La Vieux Canal | Eric Montbel, Jean Blanchard | 3:52 | |
| 116 | Adieu les Filles de Mon Pays / Mazurka | Eric Montbel, Jean Blanchard | 3:22 | |
| 117 | La Tricotada | Eric Montbel, Jean Blanchard | 1:44 | |
| 118 | Sainte Marthe, Allez-y et Dites-lui | Eric Montbel, Jean Blanchard | 2:27 | |
| 119 | Saint Leon-Sur-l'Isle / Souvenir de Chaumeil | Eric Montbel, Jean Blanchard | 3:01 | |