Various Artists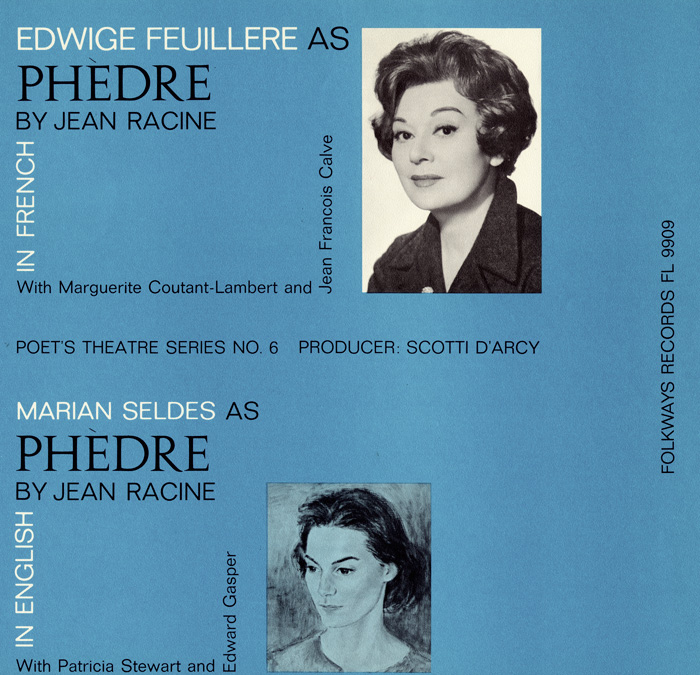 Jean Racine was one of France's greatest playwrights, and his play Phèdre, written in 1677, is often considered his best work. Phèdre (Phaedra) is a fascinating character whose intensity can only be portrayed by a gifted actress.
On this album Edwige Feuillère brilliantly fills the role in French with her favorite scenes from the play. Feuillère, who is known as the first lady of French theater, is acclaimed by critics as the "definitive Phèdre." The English section of the album is performed by Marian Seldes, an award-winning American actress known for her stage, film, radio, and television career spanning six decades.
French (France)
Jean Racine est un des plus grands auteurs dramatiques français dans l'histoire du théâtre. Phèdre, écrite en 1677, est une de ses meilleures pièces. Phèdre est un personnage fascinant confronté à sa culpabilité et à ses pulsions et seules les meilleures actrices peuvent jouer ce rôle avec l'intensité nécessaire.
Sur ce CD, pour la partie française, Edwige Feuillere, considérée par les critiques continentaux au même titre que Réjane ou Sarah Bernhardt, interprète brillamment la grandeur de ces vers. Les historiens du théâtre moderne l'ont acclamé comme incarnation de Phèdre. La première dame du théâtre français des années 30 aux années 70 a choisi ses scènes favorites de la pièce de Racine. L'emphase des vers français se retrouve dans la prose anglaise de la Phèdre de Marian Seldes. Marian Seldes est une actrice américaine reconnue dont la carrière a duré six décennies. Elle interprète Phèdre avec un véritable pouvoir dramatique qui transparaît dans la partie anglaise du CD.
Track Listing
| | | | | |
| --- | --- | --- | --- | --- |
| 101 | Act 1, Scene 3 | Edwige Feuillere, Marguerite Coutant-Lambert, and Jean Francois Calve | 5:33 | |
| 102 | Act 2, Scene 5 | Edwige Feuillere, Marguerite Coutant-Lambert, and Jean Francois Calve | 8:34 | |
| 103 | Act 4, Scene 6 | Edwige Feuillere, Marguerite Coutant-Lambert, and Jean Francois Calve | 8:42 | |
| 201 | Act 1, Scene 3 | Marian Seldes, Patricia Stewart, and Edward Gasper | 9:33 | |
| 202 | Act 2, Scene 5 | Marian Seldes, Patricia Stewart, and Edward Gasper | 7:36 | |
| 203 | Act 4, Scene 6 | Marian Seldes, Patricia Stewart, and Edward Gasper | 6:35 | |