Iraq: Iqa'at - Traditional Rhythmic Structure
Various Artists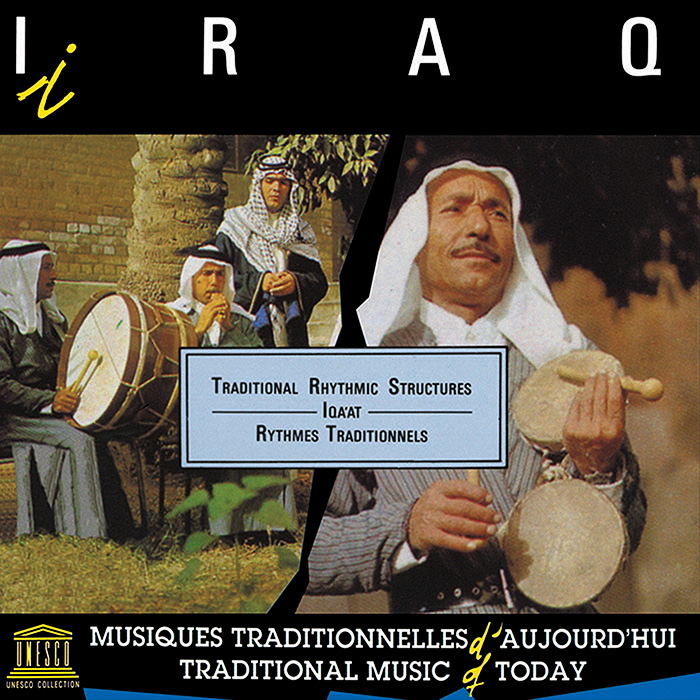 In Iraq, maqam—a term referring to any one of the rhythmically complex and improvisational melodic modes of Arabic classical music, which dictate pitches, pattern, and song progression—is performed in three distinct regional styles by vocalists, instrumentalists, and mixed drum groups. This compilation of recordings by ethnomusicologist Habib Hassan Touma features various musical genres from Basra Province and Baghdad that provide a glimpse into the varied iqa'at (rhythmic forms) in traditional Iraqi music.
FREE DOWNLOAD
Please enjoy a free download of the song "Mawwal"
This album is part of the UNESCO Collection of Traditional Music. More than 125 albums are being released by Smithsonian Folkways Recordings to make the series publicly available again, including more than a dozen never-released albums of musical traditions from around the globe.
Track Listing
| | | | | |
| --- | --- | --- | --- | --- |
| 101 | Mukhalif | Muhammad H. Jrifani, Mullah Adnan Ensemble | 14:45 | |
| 102 | Iqa´at | Sami Abdulahad | 9:52 | |
| 103 | Fann Khammari | Abdulrazzak Talal, Mullah Adnan Ensemble | 5:05 | |
| 104 | Iqa´at | Iraqi Ensemble for Traditional Music | 8:11 | |
| 105 | Murabba´ | Maidah Nazhat, Iraqi Ensemble for Traditional Music | 4:26 | |
| 106 | Abuziyya | Riad Ahmad, Iraqi Ensemble for Traditional Music | 6:48 | |
| 107 | Mawwal | Ibrahim Rahim, Iraqi Ensemble for Traditional Music | 3:37 | |