Italian Folk Music, Vol.1: Piedmont, Emelia, Lombardy
Various Artists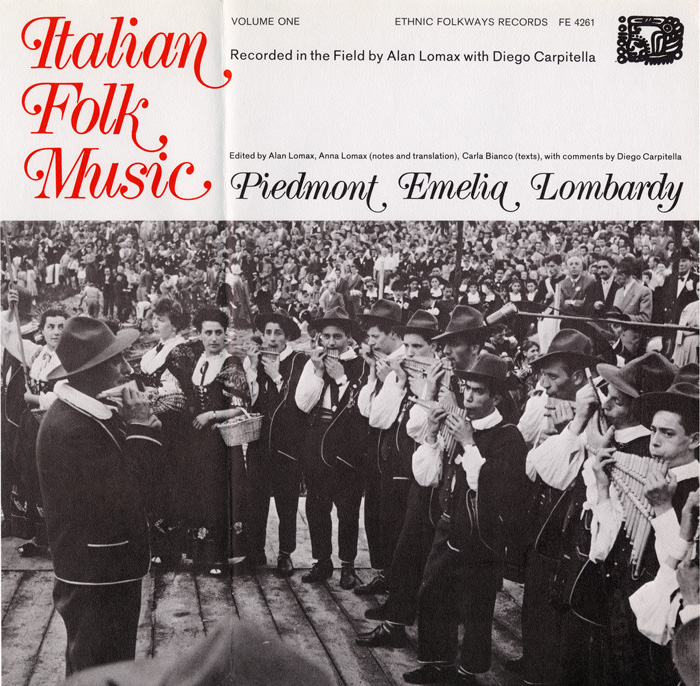 Folklorist Alan Lomax, who collected many of the selections on the album, provides a historical introduction to the northern Italian regions represented here by their rural singers and bands—and even cattle (the first track features "a whole orchestra of bells" sounding around the necks of cows as villagers move the animals to mountain pastures for the summer). Love songs, lullabies, tarantellas and waltzes, patriotic songs, ballads, yodeling, and drinking songs capture life marked by community and tradition.
Liner notes include some translations of lyrics, informative context for each track, and a bibliography (in Italian).
RELATED LESSON PLAN
"From Tarantella to Tyrol: A Tour of Italian Folk Music"
Track Listing
| | | | | |
| --- | --- | --- | --- | --- |
| 101 | Piedmont: The bells of Alpine cattle | Bells hanging from cattle | 2:51 | |
| 102 | Piedmont: Montagnes Valdotaines | Small artisan chorus | 2:06 | |
| 103 | Piedmont: Paparone (Tarantella) | Piedmontese musicians, singers | 1:10 | |
| 104 | Piedmont: Nen Marìa nostra frighietta | Three older female singers | 2:00 | |
| 105 | Piedmont: Ninì, mon pupôn (lullaby) | Maria Glany | 0:31 | |
| 106 | Piedmont: A la santé de Noé | Worker-artisan mixed chorus | 1:12 | |
| 107 | Piedmont: La blanchisseuse | Worker-artisan mixed chorus | 2:21 | |
| 108 | Piedmont: Jodoler (Yodeling Song) | Alpine musicians, female yodelers | 1:54 | |
| 109 | Piedmont: Che Bel Felice Incontro | Seven Piedmontese female singers | 2:06 | |
| 110 | Piedmont: Quei Cacciatori | Seven Piedmontese female singers | 2:02 | |
| 111 | Piedmont: La Ricciola (Waltz) | Tonco village artesan band | 1:25 | |
| 112 | Piedmont: Eviva il Monfrâ! | Monferrato musicians | 1:21 | |
| 201 | Piedmont: Monferrina (Folk Dance) | Tonco village artesan band | 1:26 | |
| 202 | Piedmont: Maria Giuanna (Drinking Song) | Piedmontese musicians, singers | 2:23 | |
| 203 | Emilia: Io parto per l'America | Emilian mixed chorus | 1:41 | |
| 204 | Emilia: Voga, voga | Lombardy mixed chorus | 2:25 | |
| 205 | Lombardy: A March | Lombardy panpipe band | 2:34 | |
| 206 | Lombardy: Ouverture from Rigoletto | Lombardy panpipe band | 2:50 | |
| 207 | Lombardy: O Pinota (Ballad) | Female rice harvesters: Delfia, Marva, Aida, Letisia, Rita, Silvana | 3:04 | |
| 208 | Lombardy: Ninna Nanna (Lullaby) | Celeste Cappelli | 2:30 | |
| 209 | Lombardy: L'é 'rivato un bastimento | Giua Bonetti, female singers | 2:16 | |
| 210 | Emilia: Trescone (Folkdance) | Riolunato artisan violinist, guitarist, dance caller | 1:41 | |