L'Honneur des Poètes: Four French Resistance Writers
Various Artists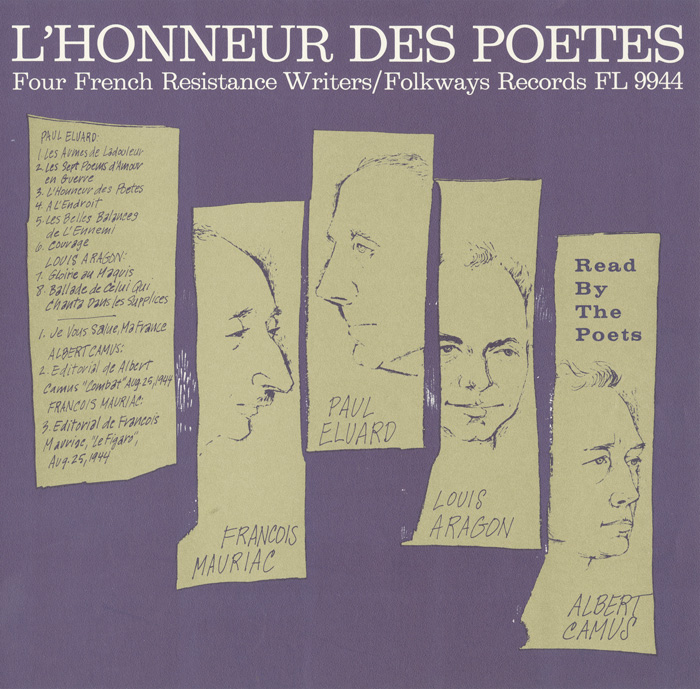 During the Nazi occupation, some French writers refused to submit to the invaders and fought to preserve France's cultural inheritance. Each in his own way, the four writers presented on this CD were deeply influenced by their resistance to the Germans.
Louis Aragon was a famous French communist poet and writer. Drafted into the military in 1939, he took refuge in the southern "free zone" after France's defeat and participated in the Resistance, both through literary activities and organization of resistance actions. His postwar poems also reflect his memories of the Resistance.
Paul Eluard was one of the founders of surrealism movement. During World War II, his work became more political. Eluard joined the Resistance and fought the enemy with his poetry. His most famous writings during this period are his 1942 poem "Liberty" and Les sept poèmes d'amour en guerre in 1944, which is included on this CD.
Listeners are also introduced to the editorials by François Mauriac and Albert Camus that appeared on August 25, 1944, and caused a bitter dispute between the two authors. Camus edited the Resistance paper Combat, while Mauriac wrote a column for Le Figaro . Camus argued that newly liberated France should purge all Nazi collaborator elements. Mauriac, though, warned that such considerations should be set aside in the interests of national reconciliation, because he doubted that justice would be impartial or dispassionate given the emotional turmoil of liberation.
French (France)
Pendant l'occupation, certains écrivains français ont refusé de se plier aux principes imposés par les allemands et se sont battus pour préserver le patrimoine culturel français. Chacun à leur manière, les quatres auteurs présentés sur ce CD se sont impliqués dans ce combat qui a fortement influencé leur travail.
Aragon est un célèbre poète et écrivain français devenu communiste. Mobilisé en 1939, il s'est réfugié en zone libre après la défaite française et a rejoint la Résistance. Il s'est à la fois impliqué dans son travail littéraire et dans des actions de résistance concrètes. Ses poèmes d'après-guerre sont également marqués par ces souvenirs de la période. Il en est de même pour les oeuvres de Paul Eluard entendues sur le CD.
Paul Eluard a été un des fondateurs du mouvement surréaliste. Durant la deuxième guerre mondiale, son travail est devenu plus politique.Il a rejoint la Résistance et s'est opposé à l'Occupation via ses poèmes. Ces écrits les plus connus à ce sujet sont "Liberty", poème de 1942 et Les sept poèmes d'amour en guerre que l'on peut entendre sur le CD.
Cet enregistrement permet également à l'auditeur de prendre connaissance des éditoriaux du 25 Août 1944 écrits par François Mauriac et Albert Camus, qui ont engendré une querelle entre les deux auteurs. Camus était alors éditeur du journal résistant Combat tandis que Mauriac tenait une colonne dans le Figaro. Camus a soutenu que la toute nouvelle France Libre se devait de « purger » tout les éléments collaborateurs nazis. Au même moment, Mauriac a écrit sa crainte de voir de telles considérations se mettre en travers de la réconciliation nationale. Il doutait en effet que la justice puisse véritablement être impartiale étant donné l'impact émotionnel de la Libération.
Track Listing