Button Accordion and Bandoneón Music from Northern Uruguay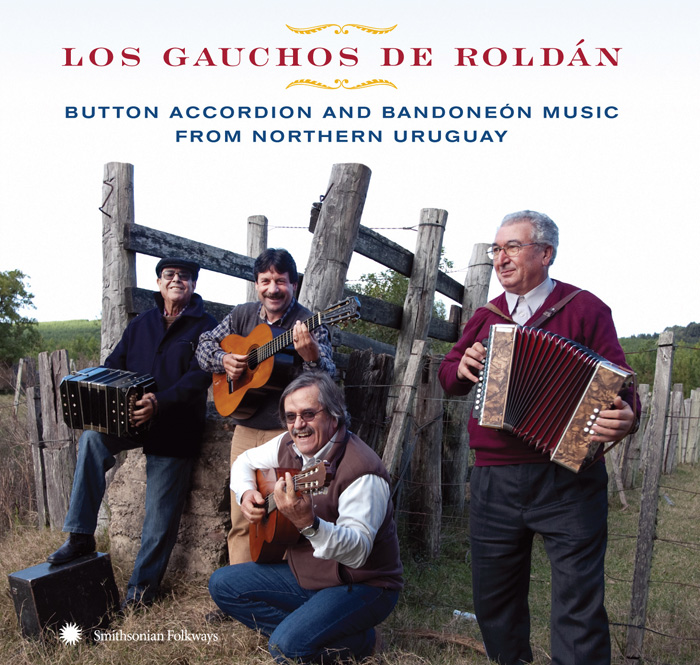 Accordions and guitars have enlivened the social life of cattle-herding gaucho families of northern Uruguay since the mid 1800s. On Los Gauchos de Roldán, regional musical icon Walter Roldán pumps out time-honored polcas and chotis, Brazilian-tinged maxixas, and more on his button accordion as Chichí Vidiella adds the lush color of the bandoneón. Bernardo Sanguinetti's guitar and Richardo Cunha's percussive, deep-pitched guitarrón immerse the melodies in a rich nest of rhythms and harmonies, which formerly-exiled singer-songwriter Numa Moraes treats us to five gems of his repertoire. 19 tracks, 55 minutes of music, 40-page bilingual booklet.
FREE DOWNLOAD
Please enjoy a free download of "Como mi suegra (Like My Mother-in-Law) - milonga"
| | | |
| --- | --- | --- |
| Como mi suegra (Like My Mother-in-Law) - milonga | MP3 | FLAC |
RELATED VIDEO
"Los Gauchos de Roldán" Share Down-Home Dance Music Tradition from Uruguay
In the studio with "Los Gauchos de Roldán"

RELATED FEATURE
Artist Spotlight - Los Gauchos de Roldán
EN ESPAÑOL
Acordeones y guitarras han animado la vida social de familias gauchas dedicadas al pastoreo de ganado del norte de Uruguay desde mediados de 1800. Los Gauchos de Roldán, el icono musical regional Walter Roldán toca polcas y chotis consagrados, maxixas con tintes brasileños y más sobre los botones de su acordeón, así como Chichí Vidiella agrega el exuberante color del bandoneón.
La guitarra de Bernardo Sanguinetti y la percusión de Richardo Cunha, con profundas entonaciones del guitarrón se sumergen en melodías en un rico nido de ritmos y armonías, que el ex exiliado cantautor Numa Moraes trata en cinco joyas de su repertorio. 19 pistas, 55 minutos de música, folleto bilingüe de cuarenta páginas.
DESCARGA GRATUITA Por favor, disfrute de la descarga gratuita de "Como mi suegra (Like My Mother-in-Law) - milonga"
Track Listing