Mexican Indian Traditions
Various Artists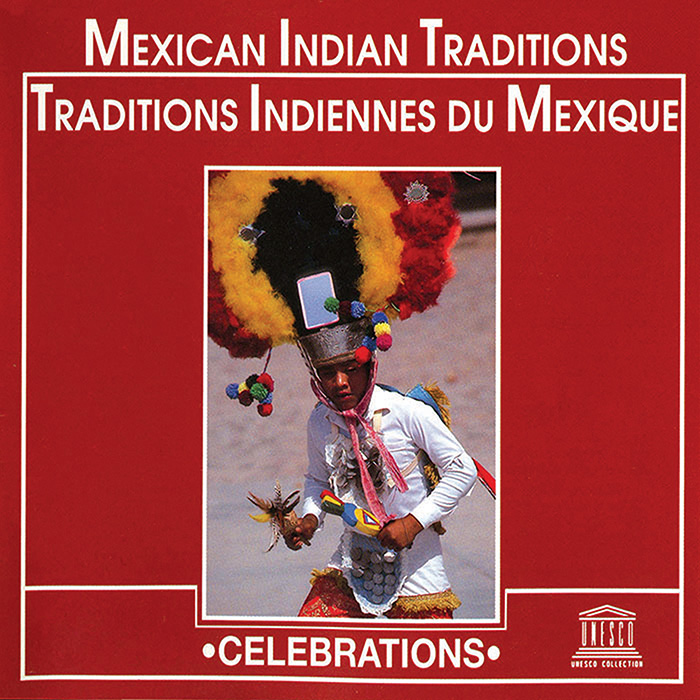 The music on this album was recorded live during performances by seven indigenous Mexican groups at the Avignon Festival (France) in the summer of 1992. On the occasion of the 500th Anniversary Commemoration of the Encounter between Two Worlds, the festival brought together, for the first time in Europe, approximately a hundred musicians and dancers from the Totonac, Zapotec, Serio, Mayo, and Tepehuan Indian communities of Mexico.
The liner notes, in English, Spanish, and French, provide rich background on the ethnic groups and their traditions. "The Dance of the Quetzals" (Totonac), for example, has a "genuinely indigenous history": according to legend, a bird with magnificent plumage that lived long ago in the Totonacapan region became extinct, and the dance begged the forces of nature to bring the bird back to life. Other pieces reflect the arrival of the Spaniards; "The Feather Dance" (Zapotec), created in the 1800s, even includes dialogues between Aztec warriors and conquistadors.
FREE DOWNLOAD
Please enjoy a free download of the song "Butterfly Tune"
This album is part of the UNESCO Collection of Traditional Music. More than 125 albums are being released by Smithsonian Folkways Recordings to make the series publicly available, including a dozen never-released albums of musical traditions from around the globe.
Track Listing
| | | | | |
| --- | --- | --- | --- | --- |
| 101 | Danza de pascola: Canción de la pubertad | Adolfo Burgos Feliix, Francisco Barnett Astorga | 0:59 | |
| 102 | Danza de pascola: Canción de fiesta | Adolfo Burgos Feliix, Francisco Barnett Astorga | 0:53 | |
| 103 | Danza de pascola: Canto de pascola | Adolfo Burgos Feliix, Francisco Barnett Astorga | 0:40 | |
| 104 | Danza de pascola: Canto del cantador | Adolfo Burgos Feliix, Francisco Barnett Astorga | 1:03 | |
| 105 | Danza del venado: El caballo blanco | Tomas Anguamea Alamea, Santos Anguamea Jaimea, Silvestre Millanes Alamea, Luciano Anguamea Garcia | 3:15 | |
| 106 | Danza del venado: Tomberino | Tomas Anguamea Alamea, Santos Anguamea Jaimea, Silvestre Millanes Alamea, Luciano Anguamea Garcia | 4:48 | |
| 107 | Danza del arralan: La Susana | Ascencion de la Cruz Morales, Carmelo Ramirez Solis | 3:05 | |
| 108 | Danza del arralan: El "Jic-pac" | Ascencion de la Cruz Morales, Carmelo Ramirez Solis | 5:37 | |
| 109 | Danza del arralan: Danza del toro | Ascencion de la Cruz Morales, Carmelo Ramirez Solis | 10:50 | |
| 110 | Danza de la pluma: Canto Heráldico | Laurencio Garcia Garcia, Abel Garcia, Prisciliano Garcia, Genaro Aquino, Fernando Martinez Bautista, Rodolfo Garcia Gutierrez, Rufino Rodriguez Gutier | 2:12 | |
| 111 | Danza de la pluma: Registro | Laurencio Garcia Garcia, Abel Garcia, Prisciliano Garcia, Genaro Aquino, Fernando Martinez Bautista, Rodolfo Garcia Gutierrez, Rufino Rodriguez Gutier | 2:23 | |
| 112 | Danza de la pluma: Espacio | Laurencio Garcia Garcia, Abel Garcia, Prisciliano Garcia, Genaro Aquino, Fernando Martinez Bautista, Rodolfo Garcia Gutierrez, Rufino Rodriguez Gutier | 7:54 | |
| 113 | Danza de la pluma: Flor de Tule | Laurencio Garcia Garcia, Abel Garcia, Prisciliano Garcia, Genaro Aquino, Fernando Martinez Bautista, Rodolfo Garcia Gutierrez, Rufino Rodriguez Gutier | 4:58 | |
| 114 | Danza de los Quetzales: Son de la Mariposa | Miguel Garcia Santes | 1:55 | |
| 115 | Danza de los Quetzales: Son de la Calandria | Miguel Garcia Santes | 2:25 | |
| 116 | Danza de los Negritos: Son de la Media Bamba | Juan Martinez Juarez | 3:30 | |
| 117 | Danza de los Negritos: Son de la primavera | Juan Martinez Juarez | 4:10 | |
| 118 | Danza de Moros y Cristianos: Son Cruzado | Alberto Garcia de Leon, Juan Isauro Olmos Garcia, Fernando Mendez Cortez | 3:39 | |
| 119 | Danza de Moros y Cristianos: Son de Golpe | Alberto Garcia de Leon, Juan Isauro Olmos Garcia, Fernando Mendez Cortez | 4:27 | |