Modern Brazilian Poetry: Read by Professor Cassiano Nunes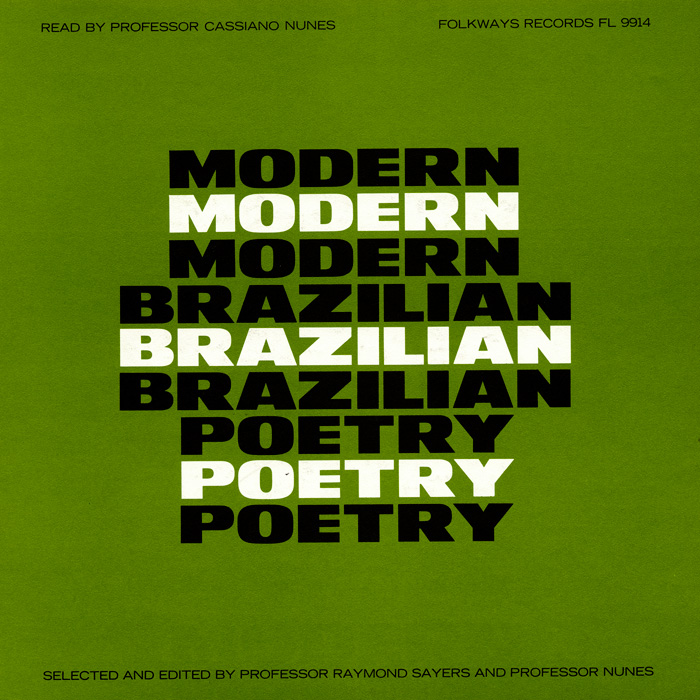 "The most dramatic event in the history of Brazilian literature in the twentieth century was the Semana de Arte Moderna (Modern Art Week), which took place in Sao Paulo in February, 1922. Included in the program were a series of speeches about contemporary art, literature and music, poetry readings, recitals or music and an art exhibit. The Semana marked the beginning of the literary movement called modernismo, and it represented a declaration of independence from European domination by creators in the fields of all the arts..."

"O evento mais dramático da história da literature Brasileira no século XX foi a Semana de Arte Moderna, que aconteceu em São Paulo em Fevereiro de 1922. O programa incluia uma série de apresentações sobre arte contemporânea, literature e música, leitura de poemas, recitais ou músicas e uma exposição de arte. A Semana marcou o começo de um movimento literário chamado Modernismo, e representa a declaração da independência do domínio europeu em todos os segmentos de arte..."

"La Semana de Arte Moderna, que tuvo lugar en Sao Paulo en febrero de 1922, fue el evento más dramático de la historia de la literatura brasilera del siglo XX. El programa incluía una serie de presentaciones sobre arte contemporáneo, literatura y música, lecturas de poesía, conciertos y una exhibición de arte. La Semana marcó el comienzo de del modernismo y representó una declaración de independencia de la dominación creativa europea en todos los campos del arte..."


Track Listing