Various Artists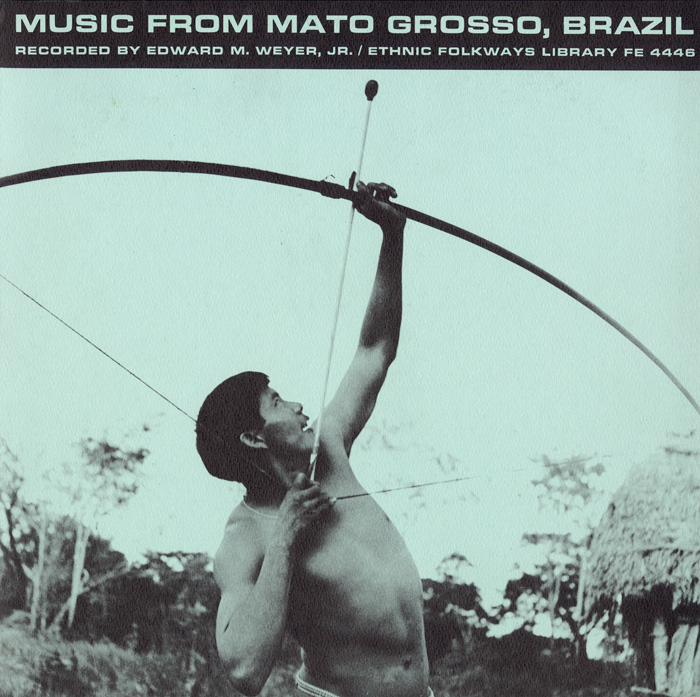 "The very name "Mato Grosso," or "Thick Forest" as it means in Portuguese, epitomizes the unknown and the unexplored. In the present century this obscure Brazilian wilderness, situated almost in the geographical center of the South American continent, gained worldwide interest with the disappearance of Colonel Fawcet and his party in 1926. Even today, though it may be reached by plane from Rio de Janeiro in less than a day, Mato Grosso is only just beginning to become known to the civilized world. The Upper Xingú River, which is the area of Mato Grosso with which this album is mainly concerned, was first explored by Karl von den Steinen as recently as 1884, and the Chavante Indians were only just peacefully contacted by white men in 1946..."

Harry Tschopik, Jr

"O nome Mato Grosso é um epítome do desconhecido e inexplorado. Neste século a obscura floresta brasileira, localizada quase no centro geográfico do continente sul-americano, foi um foco de interesse mundial com o desaparecimento do Coronel Fawcet e sua expedição em 1926. Hoje em dia, o Mato Grosso está apenas começando a ser conhecido pelo mundo civilizado, mesmo que possa ser alcançado por avião em menos de uma hora do Rio de Janeiro. A parte superior do Rio Xingu, a qual é a área do Mato Grosso que este CD se enfoca, foi explorada pela primeira vez por Karl von den Steinen em uma data tão recente como 1884, entretanto os índios chavantes foram pacificamente contatados pelos homens brancos em 1946..."

Harry Tschopik, Jr

"El nombre mismo de 'Mato Groso,' o 'Selva Tupida' en portugués, es un epitome de lo desconocido y lo inexplorado. Durante el presente siglo este oscuro paraje selvático, localizado casi en el centro geográfico del continente suramericano, fue foco de interés mundial con la desaparición del coronel Fawcet y su expedición en 1926. Incluso ahora, a pesar de que es posible llegar allí por vía aérea desde Rio de Janeiro en menos de un día, el Mato Grosso está apenas comenzando a ser conocido para el mundo civilizado. La parte superior del río Xingú, el área del Matto Grosso en el cual este álbum se enfoca, fue explorada por primera vez por Karl von den Steinen en una fecha tan reciente como 1884, mientras que los indios Chavante fueron contactados pacíficamente por hombres blancos apenas en 1946..."

Harry Tschopik, Jr.


Track Listing