Bosavi: Rainforest Music from Papua New Guinea
Various Artists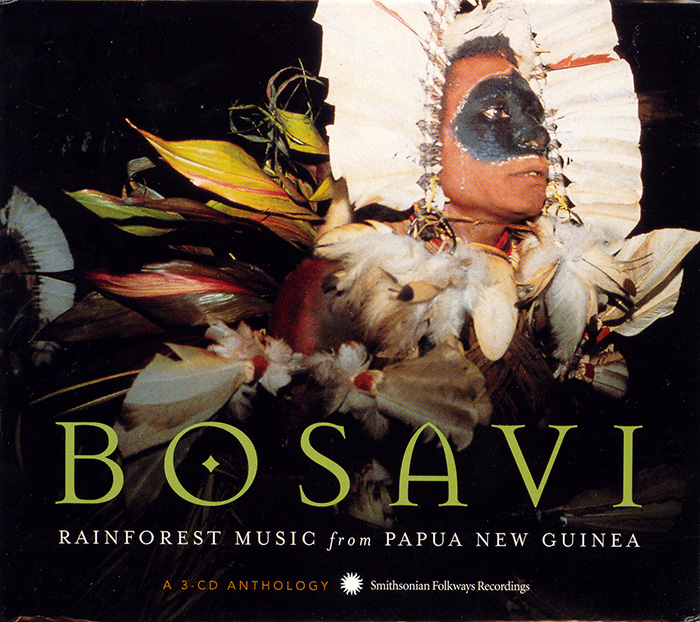 Two generations of Bosavi musicians and 25 years of field recordings: a comprehensive and intimate musical portrait of life in a Papua New Guinea rainforest community. Includes the contemporary music of the youngest generation of guitar band composers, and performances of many traditional everyday and ritual styles featuring their parents. Recorded and annotated by Steven Feld, producer of Voices of the Rainforest and author of Sound and Sentiment. Three CDs. 193 minutes. 47 tracks. 80-page booklet with photos and extensive notes. For further information about the community that created this music, visit the Bosavi Peoples Fund website.

RELATED RECORDING
Voices of the Rainforest recorded by Steven Feld

RELATED LESSON PLAN
"The Jew's Harp: Vibrating Through Many Cultures"
Track Listing
| | | | | |
| --- | --- | --- | --- | --- |
| 101 | My Father, My Heart | Kemuli String Band | 3:20 | |
| 102 | Kemuli | Kemuli String Band | 2:30 | |
| 103 | Oh No! | Kemuli String Band | 2:29 | |
| 104 | What We Said | Kemuli String Band | 2:20 | |
| 105 | My Mother | Kemuli String Band | 3:04 | |
| 106 | Really Hungry! | Lus Mangi Grin Neks String Band | 4:55 | |
| 107 | Sadness | Lus Mangi Grin Neks String Band | 2:57 | |
| 108 | BBK Brother | Difalasulu String Band | 2:45 | |
| 109 | E-yo, E-yo | Tasi Kabulo: String Band | 3:02 | |
| 110 | Long Ago | Gusuwa String Band | 3:37 | |
| 111 | Father, Mother | BVDC String Band | 3:14 | |
| 112 | Where Has My Mother Gone? | BVDC II String Band | 5:00 | |
| 113 | Rosi, Rosi | BVDC II String Band | 3:26 | |
| 114 | Blue Mountain | BVDC II String Band | 3:10 | |
| 115 | Sorry, My Sister! You People Go! | BVDC III String Band | 3:29 | |
| 116 | Air Niugini Plane | BBK String Band | 3:04 | |
| 117 | One Time | BBK String Band | 2:41 | |
| 118 | The Sun Is Setting | Gasali Mates String Band | 2:57 | |
| 119 | My Sweetheart | Gasali Mates String Band | 3:43 | |
| 201 | A men's work group clears a new garden | Fifteen working men | 8:44 | |
| 202 | Ulahi sings while scraping sago pith | Ulahi | 4:38 | |
| 203 | Ulahi sings while making sago | Ulahi | 1:25 | |
| 204 | Fo:fo: and Miseme sing at their sago place | Fo:fo:, Miseme | 2:21 | |
| 205 | Ulahi and Eyo:bo sing with afternoon cicadas | Ulahi, Eyo:bo | 2:47 | |
| 206 | Ulahi and Eyo:bo sing at a waterfall | Ulahi, Eyo:bo | 6:20 | |
| 207 | Men's vocal quartet with seed-pod rattles | Kulu, Gigio, Seyaka, and Kogowe | 3:35 | |
| 208 | A large men's collective work group sing and whoop | Bosavi men | 3:21 | |
| 209 | Gaima plays the bamboo jew's harp | Gaima | 1:54 | |
| 210 | Voices of the forest: a village soundscape | Bosavi village | 25:06 | |
| 301 | Funerary sung-weeping group | A weeping group | 2:16 | |
| 302 | Funerary sung-weeping by Gania and Famu | Gania, Famu | 4:21 | |
| 303 | Funerary sung-weeping by Hane | Hane | 6:54 | |
| 304 | Seance gisalo song by Aiba with weeping | Aiba | 8:45 | |
| 305 | Ceremonial gisalo performed by Halawa | Halawa | 14:03 | |
| 306 | Group ceremonial drumming, ilib kuwo: | Costumed, dancing drummers | 9:26 | |
| 307 | Ceremonial ko:luba song-1 | A:siya and Go:bo | 2:29 | |
| 308 | Ceremonial ko:luba song-2 | A:siya and Go:bo | 1:58 | |
| 309 | Ceremonial ko:luba song-3 | Amini and Mei | 2:44 | |
| 310 | Ceremonial ko:luba song-4 | Amini, Gaso, and chorus | 1:35 | |
| 311 | Ceremonial iwo: song-1 | Bosavi men | 1:03 | |
| 312 | Ceremonial iwo: song-2 | Bosavi men | 0:54 | |
| 313 | Ceremonial iwo: song-3 | Bosavi men | 1:32 | |
| 314 | Ceremonial iwo: song-4 | Bosavi men | 1:12 | |
| 315 | Women's ceremonial iwo: song-1 | Ulahi, Ea, Gania, and Gisa | 1:49 | |
| 316 | Women's ceremonial iwo: song-2 | Ea, Ulahi, Gania, and Gisa | 1:50 | |
| 317 | Ceremonial sabio duet | Wano, Gaso | 3:30 | |
| 318 | Ceremonial sabio quartet | Wano, Gaso, Gigio, and Sowelo | 4:34 | |