Traditional Music of the World, Vol. 7: Ritual Music of the Kayapó-Xikrin, Brazil
Various Artists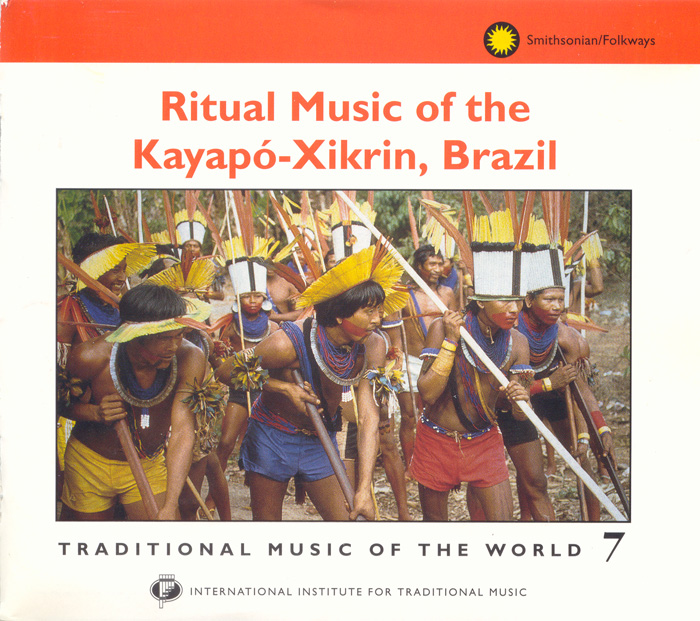 The Xikrin villages of the Kayapó, located in the Brazilian Amazon, perform long and elaborate ceremonies to initiate their youth and to renew their relations with the natural world, with one another, and with spirits. Powerful choral music, performed by groups of men and women, characterizes the music of these communities. Xikrin music provides a strong community support for their continuing resistance to invasions and abuse of their traditional lands. These 1988 digital recordings include selections from several Xikrin ceremonies. Xikrin culture and mythology is presented by Brazilian specialists in a 76-page booklet. Royalties from this recording are directed to the Xikrin community Catate.

As vilas de Xikrin do Kayapó, localizada na Amazônia brasileira, preparam extensas e elaboradas cerimônias na iniciação da juventude e para renovar as relações com o mundo natural, um com o outro, e com os espíritos. Corais formados por homens and mulheres, caracterizam a música destas comunidades. A música Xikrin fornece um suporte para a comunidade em resistir as invasões e abuso de outras tradições do país. Estas gravações digitais de 1988, incluem faixas de muitas cerimonias Xikrin. A cultura e mitologia Xikrin é apresentada por especialistas brasileiros em um livreto de 76 páginas. Os direitos autorais deste álbum pertencem à comunidade Xikrin Catate.


EN ESPAÑOL
Los pueblos Xikrin de los Kayapó, ubicados en la Amazonia brasileña, realizan ceremonias largas y elaboradas para iniciar su juventud y renovar sus relaciones con el mundo natural, entre sí y con los espíritus. La ponderosa música coral, interpretada por grupos de hombres y mujeres, caracteriza la música de estas comunidades.
La música Xikrin proporciona un fuerte apoyo de la comunidad para su continua resistencia a las invasiones y abusos en sus tierras tradicionales. Estas grabaciones digitales de 1988 incluyen selecciones de varias ceremonias Xikrin. La cultura y mitología Xikrin es presentada por especialistas brasileños en un folleto de setenta y seis páginas. Los derechos de esta grabación se dirigen a la catate comunidad Xikrin
Track Listing