Musics of the Earth: Astonishing and Rare Instruments
Various Artists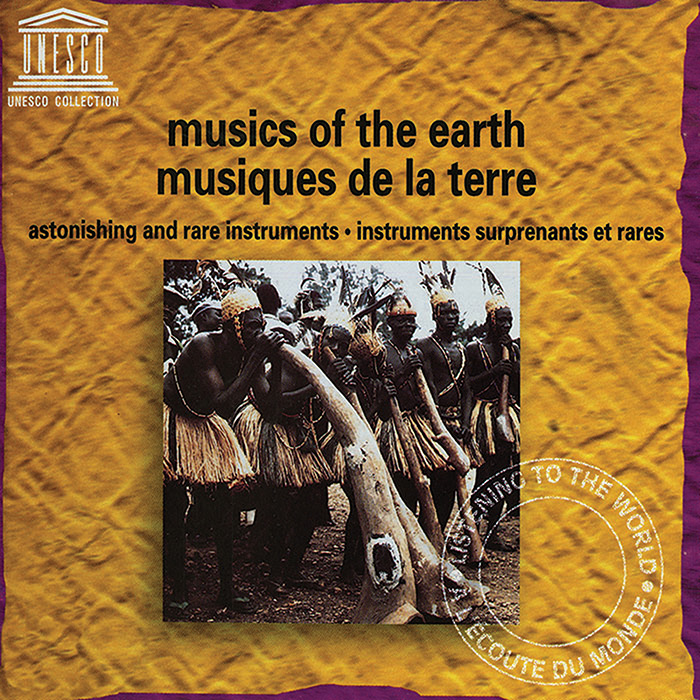 For centuries, musicians from all parts of the world have crafted musical instruments using locally sourced materials. Nineteen examples of the music performed on these instruments make up the Musics of the Earth: Astonishing and Rare Instruments from the UNESCO Collection. The result is a dazzling array of instrumental music representing the music of peoples on the continents of South America, Africa, Asia, and the Pacific archipelago of the Solomon Islands.
The liner notes, in English and French, provide brief background information about each of the selections.
FREE DOWNLOAD
Please enjoy a free download of the song "Brazil: Aije"
This album is part of the UNESCO Collection of Traditional Music. More than 125 albums are being released by Smithsonian Folkways Recordings to make the series publicly available, including a dozen never-released albums of musical traditions from around the globe.
Track Listing
| | | | | |
| --- | --- | --- | --- | --- |
| 101 | CÔTE D'IVOIRE: Music of a guardian spirit | n/a | 3:57 | |
| 102 | BENIN: Music in praise of Oru Suru (extract) | n/a | 4:21 | |
| 103 | NIGER: Pakapaka (extract) | Mahamuudu, Hamma, Abdullaay | 1:30 | |
| 104 | CENTRAL AFRICAN REPUBLIC: Nzombi (Music for the return from a hunt) (extract) | n/a | 0:58 | |
| 105 | CENTRAL AFRICAN REPUBLIC: Eci ameya (Song for the cult of the twins) | n/a | 1:48 | |
| 106 | SUDAN: Al Shammasha | Sayid Abdul Rahman and his group, Madbis clan, Ganis Village, Berta Tribe | 2:02 | |
| 107 | YEMEN: Hakfat (extract) | Ismail Mohammed Khoureissan, Mansour el Qasaba | 3:46 | |
| 108 | AFGHANISTAN: Chahârbaiti | Abdullah | 2:46 | |
| 109 | BADAKHSHAN: Uyman tartur, Oyimcha, Takanja dandun nars (I love your little teeth) (extract) | Kanchi Bek | 1:15 | |
| 110 | UZBEKISTAN: Hafif-i segah | Matrasul Matyakubov | 4:45 | |
| 111 | KURDISH MUSIC: Mawal wa raqsa (extract) | Hamo Hassan Ra'sho, Mohammed Ahmed Ra'sho, Hussein Mohammed Ra'sho | 4:18 | |
| 112 | INDIA: Svara Mandala | Svami Dr.R. Parvatikar | 3:08 | |
| 113 | LAOS: Lot Fay Tay Lang (The train goes down the track) | Thao Salilath | 3:11 | |
| 114 | VIETNAM: Improvised prelude in the modal nuance Bac of the Bac mode followed by the two short pieces of Binh Ban Van and Kim Tien | Nguyên-Vinh-Bao, Tran Van Khê | 3:26 | |
| 115 | CAMBODIA: Bât Phléng Khlong & Saray Andèt (extract) | Srey-Kim | 3:09 | |
| 116 | JAVA: Tarawangsa (extract) | Pak Supria, Pak Amat | 4:53 | |
| 117 | BALI: Gambang Suling (extract) | Lebah, leader | 4:53 | |
| 118 | SOLOMON ISLANDS: Faa ta gwouna | Au Sisile Panpipe Ensemble | 1:52 | |
| 119 | BRAZIL: Aije (The sound of the bull-roarers) | The Bororo | 1:54 | |