Nobel Voices for Disarmament: 1901-2001
Various Artists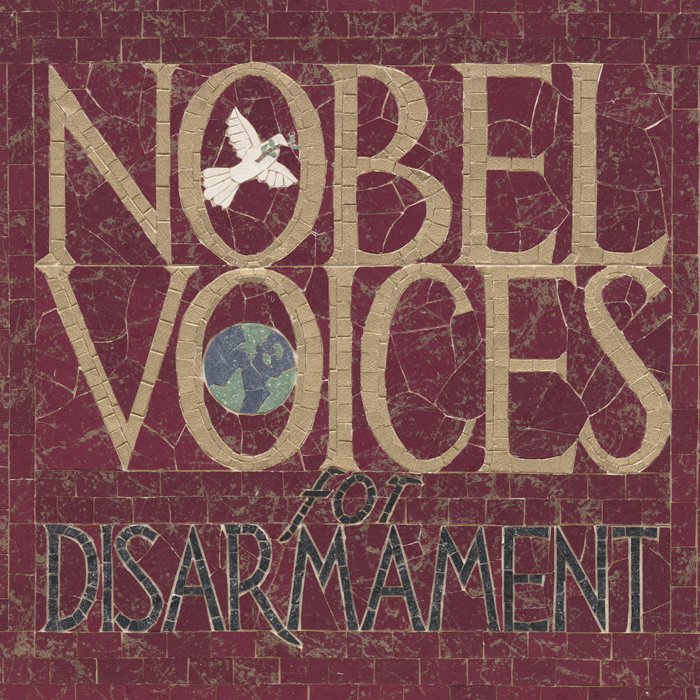 In the face of historically unparalleled violence during the 20th century, voices of reason unceasingly advocated for peace by disarmament. Alfred Nobel created the Nobel Peace Prize in 1901 to honor such advocacy. In this collection of archival and new spoken word recordings, Nobel laureates and other proponents of peace remind us of their profound efforts on behalf of world peace. Their eloquence both rings out our achievements in disarmament and evokes the growing need for conflict resolution in today's world. Michael Douglas, honored as a United Nation's Messenger of Peace, introduces and narrates the compilation. 39 tracks, 67 minutes, 28-page booklet.
This CD was made possible by the generous support of the United Nations Office of Disarmament Affairs, the Principality of Andorra, and Smithsonian's Lemelson Center for the Study of Invention and Innovation. Produced by Peabody Award-winner David Tarnow.
Click here to stream the album free and download a free lesson plan.
Track Listing
| | | | | |
| --- | --- | --- | --- | --- |
| 101 | Michael Douglas, A United Nations Messenger of Peace | Michael Douglas | 2:18 | |
| 102 | Gunnar Jahn, Norwegian Nobel Committee Chair | Gunnar Jahn | 0:35 | |
| 103 | Philip Noel-Baker, author and peace activist | Philip Noel-Baker | 3:29 | |
| 104 | Joseph Rotblat, nuclear physicist | Joseph Rotblat | 4:56 | |
| 105 | Joseph Rotblat, nuclear physicist | Joseph Rotblat | 4:46 | |
| 106 | Michael Douglas reads from the Russell-Einstein Manifesto | Michael Douglas | 2:07 | |
| 107 | Joseph Rotblat | Joseph Rotblat | 2:38 | |
| 108 | Michael Douglas reads from the Red Cross Mission Statement | Michael Douglas | 0:33 | |
| 109 | Peter Herby, coordinator of the Mines Arms Unit | Peter Herby | 1:32 | |
| 110 | Peter Herby, coordinator of the Mines Arms Unit | Peter Herby | 1:09 | |
| 111 | Michael Douglas reads from the 1925 Geneva Protocol | Michael Douglas | 1:40 | |
| 112 | Bernard Lown, American cardiologist and co-founder of IPPNW | Bernard Lown | 1:36 | |
| 113 | Philip Noel-Baker | Philip Noel-Baker | 1:03 | |
| 114 | Bernard Lown | Bernard Lown | 2:12 | |
| 115 | Michael Douglas reads from The New England Journal of Medicine | Michael Douglas | 2:50 | |
| 116 | Bernard Lown | Bernard Lown | 3:42 | |
| 117 | Bernard Lown | Bernard Lown | 2:30 | |
| 118 | Yevgeny Chazov, Russian cardiologist and co-founder of IPPNW | Yevgeny Chazov | 2:08 | |
| 119 | Bernard Lown | Bernard Lown | 1:40 | |
| 120 | Yevgeny Chazov | Yevgeny Chazov | 0:44 | |
| 121 | Michael Douglas reads from the 1987 INF Treaty | Michael Douglas | 1:03 | |
| 122 | Felicity Hill, Director of the U.N. office of WILPF | Felicity Hill | 1:26 | |
| 123 | Edith Ballantyne, Secretary-General of WILPF | Edith Ballantyne | 0:53 | |
| 124 | Felicity Hill | Felicity Hill | 1:04 | |
| 125 | Jane Addams, founding President of WILPF | Jane Addams | 0:28 | |
| 126 | Felicity Hill | Felicity Hill | 0:48 | |
| 127 | Seán MacBride, President of the International Peace Bureau | Seán MacBride | 2:37 | |
| 128 | Michael Douglas reads a landmine statistic | Michael Douglas | 0:06 | |
| 129 | Jody Williams, coordinator, International Campaign to Ban Landmines | Jody Williams | 2:06 | |
| 130 | Bill Clinton, 42nd President of the United States | Bill Clinton | 0:43 | |
| 131 | Kofi Annan, former Secretary-General of the United Nations | Kofi Annan | 1:48 | |
| 132 | Alva Reimer Myrdal, Swedish diplomat and author | Alva Reimer Myrdal | 1:08 | |
| 133 | Michael Douglas reads from The Game of Disarmament | Michael Douglas | 1:12 | |
| 134 | Linus Pauling, American scientist, author, and peace activist | Linus Pauling | 2:16 | |
| 135 | John F. Kennedy, 35th President of the United States | John F. Kennedy | 2:24 | |
| 136 | Alfonso García Robles, Mexican diplomat and United Nations official | Alfonso García Robles | 0:58 | |
| 137 | Gunnar Berge, Norwegian Nobel Committee Chair | Gunnar Berge | 1:00 | |
| 138 | Kofi Annan | Kofi Annan | 0:58 | |
| 139 | Michael Douglas reads closing credits | Michael Douglas | 0:52 | |