Peru: Music of the Indigenous Communities of Cuzco
Various Artists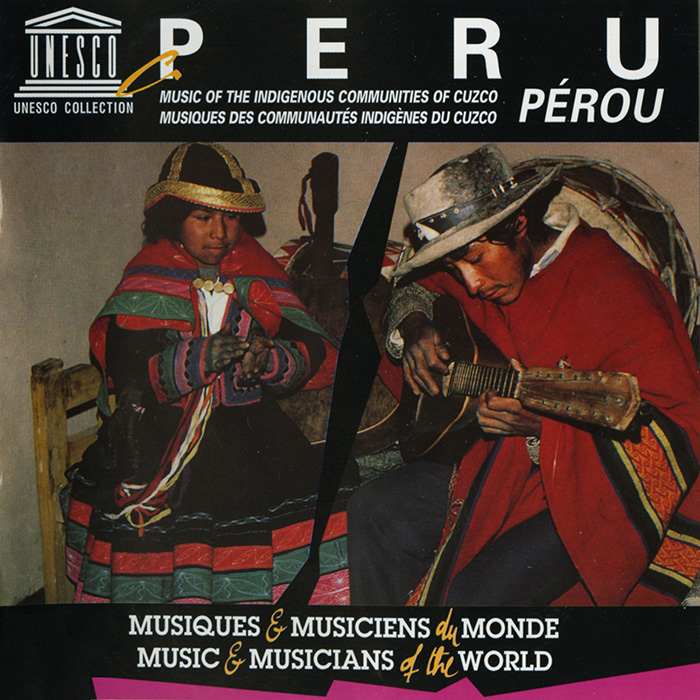 The city of Cuzco, Peru is home to a number of indigenous peasant communities. Much of their music continues to be associated with fertility rites and to mark agrarian cycles, but the Spanish introduced guitars, mandolins, and other instruments that the indigenous peoples adapted and blended into their ancestral music. The songs are sung in Quechua.
The liner notes, in English and French, provide information about the geography of the region, the history of its inhabitants, local rituals involving music, and especially the musical instruments heard on the recording.
FREE DOWNLOAD
Please enjoy a free download of the song "Punch'ay qhashwa"
This album is part of the UNESCO Collection of Traditional Music. More than 125 albums are being released by Smithsonian Folkways Recordings to make the series publicly available, including a dozen never-released albums of musical traditions from around the globe.
Track Listing
| | | | | |
| --- | --- | --- | --- | --- |
| 101 | Papa Hallmay | n/a | 1:52 | |
| 102 | Papa Asllay | n/a | 2:21 | |
| 103 | Papa Ch'utay | Angelino Quispe Sallo | 2:22 | |
| 104 | Tinkuy Carnival 1 | Fidel Wisa Hach'u, Carlos Wisa | 5:01 | |
| 105 | Puka chaki wallata | Fidel Wisa Hach'u, Carlos Wisa | 1:37 | |
| 106 | Puka chaki wallata | Fidel Wisa Hach'u, Carlos Wisa | 4:02 | |
| 107 | Añu ñiwu de lawata | Fidel Wisa Hach'u, Carlos Wisa | 3:39 | |
| 108 | Tinkuy Carnival 2 | Fidel Wisa Hach'u, Carlos Wisa | 3:07 | |
| 109 | Tinkuy Carnival 3 | Fidel Wisa Hach'u, Carlos Wisa | 4:23 | |
| 110 | Kacharpari y Diana | n/a | 5:38 | |
| 111 | Languilayo qochachapi | Sonia Mamani, Victor Mamani Pucho | 3:08 | |
| 112 | Cruzata punchitu | n/a | 2:55 | |
| 113 | Linda gaviotita | Severino Pineda Aragón | 3:12 | |
| 114 | Q'ellabamba campanitay | Galoperas of Canas Group | 3:26 | |
| 115 | Danza Q'anchi de Canas | Severino Pineda Aragón, Victor Mamani Pucho, Victor Callo Roque | 2:46 | |
| 116 | Punch'ay qhashwa | Severino Pineda Aragón | 2:25 | |
| 117 | Tupay chita kasarachiy | Felipa Portugal Huella, Victor Mamani Pucho, Victor Callo Roque | 4:24 | |
| 118 | Toqroyoq plazapi | Felipa Portugal Huella, Victor Callo Roque | 2:42 | |
| 119 | Tuytunki, tuytunki | Felipa Portugal Huella, Victor Mamani Pucho | 3:26 | |
| 120 | Descanso q'asay | Severino Pineda Aragón | 2:23 | |
| 121 | Kasarakuy mallkiyuq | Severino Pineda Aragón, Felipa Portugal Huella | 2:00 | |
| 122 | Chita mamalla | Severino Pineda Aragón and son | 1:53 | |
| 123 | Tupay sabaru juygo | Severino Pineda Aragón | 2:34 | |