Pete Seeger, Mika Seeger, and Rev. Larry Eisenberg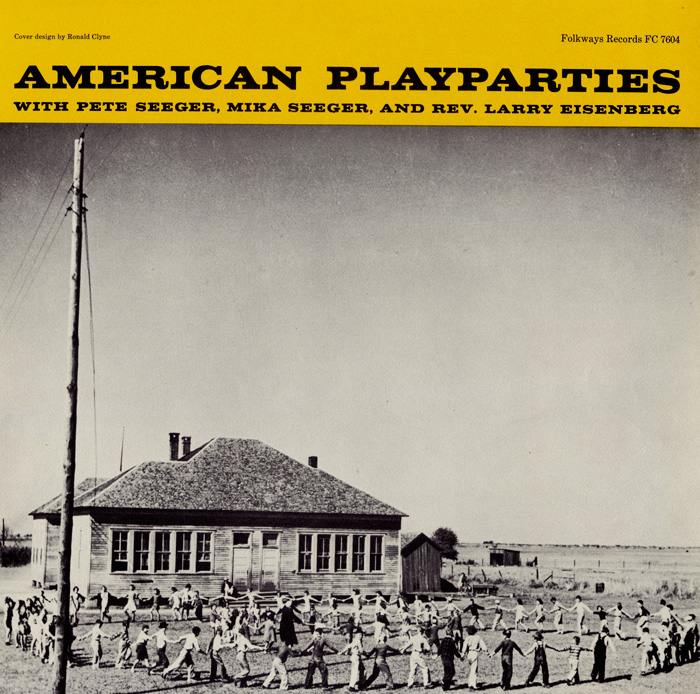 To evade the religious prohibition against dancing in certain American communities, young people in the 19th century devised an ingenious solution—they adapted children's games, which were permitted. The result was so-called play parties. Participants sang creative songs to cue movements, and the events were great "mixers." The only element lacking was instrumental music.
On this recording, Pete Seeger and his young daughter Mika are joined by Rev. Larry Eisenberg in the singing of traditional play party songs. The songs come primarily from the collections of Lynn and Katherine Rohrbough. In accordance with traditional practice, the play parties are sung without accompaniment, save for handclapping.
The liner notes, written by Pete Seeger, outline the history, development, and characteristics of play parties, and provide the lyrics.
Track Listing
| | | | | |
| --- | --- | --- | --- | --- |
| 101 | Mazoo, Mazoo | Pete Seeger, Mika Seeger, and Rev. Larry Eisenberg | 2:56 | |
| 102 | Skip to My Lou | Pete Seeger, Mika Seeger, and Rev. Larry Eisenberg | 2:24 | |
| 103 | Shake Them 'Simmons Down | Pete Seeger, Mika Seeger, and Rev. Larry Eisenberg | 2:33 | |
| 104 | Alabama Gal | Pete Seeger, Mika Seeger, and Rev. Larry Eisenberg | 3:39 | |
| 105 | Sally Down the Alley | Pete Seeger, Mika Seeger, and Rev. Larry Eisenberg | 2:23 | |
| 106 | Turn the Glasses Over | Pete Seeger, Mika Seeger, and Rev. Larry Eisenberg | 2:16 | |
| 107 | Goodbye Liza Jane | Pete Seeger, Mika Seeger, and Rev. Larry Eisenberg | 1:54 | |
| 201 | Git Along Home | Pete Seeger, Mika Seeger, and Rev. Larry Eisenberg | 1:36 | |
| 202 | Paw Paw Patch | Pete Seeger, Mika Seeger, and Rev. Larry Eisenberg | 3:29 | |
| 203 | Betty Larkin | Pete Seeger, Mika Seeger, and Rev. Larry Eisenberg | 2:59 | |
| 204 | Jolly is the Miller | Pete Seeger, Mika Seeger, and Rev. Larry Eisenberg | 3:53 | |
| 205 | Pig in the Parlor | Pete Seeger, Mika Seeger, and Rev. Larry Eisenberg | 1:26 | |
| 206 | Great Big House in New Orleans | Pete Seeger, Mika Seeger, and Rev. Larry Eisenberg | 1:50 | |
| 207 | Sent My Brown Jug Downtown | Pete Seeger, Mika Seeger, and Rev. Larry Eisenberg | 2:04 | |