Romania: Festive Music from the Maramures Region
Various Artists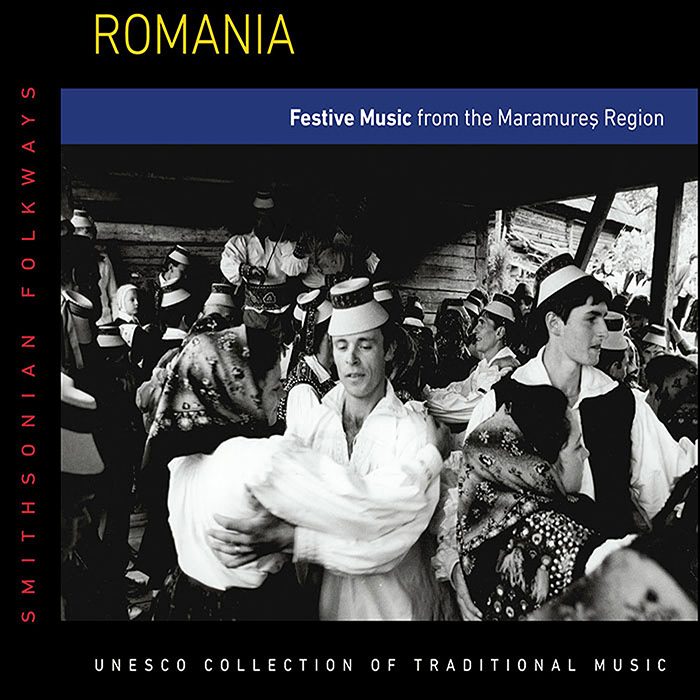 This album captures the robust music in the Maramureş region of Romania, where the musicians play the fiddle (ceteră), the guitar (zongoră), and the drum (dobă) at large gatherings, annual festival celebrations, and smaller, neighborhood parties. The traditional dancing parties occur regularly in the villagers' homes, where they make music together impromptu, and have poetic competitions all night long. The live recordings of such a party in Hoteni village offer a taste of this gaiety. Today, these recordings from 1992 carry particular significance because many political and social changes have greatly impacted the region since the 1990s. 60 minutes, 25-page notes.
FREE DOWNLOAD
Please enjoy a free download of the song "Song from Sălişte"
This album is part of the UNESCO Collection of Traditional Music. More than 125 albums are being released by Smithsonian Folkways Recordings to make the series publicly available, including a dozen never-released albums of musical traditions from around the globe.
Track Listing
| | | | | |
| --- | --- | --- | --- | --- |
| 101 | Horea oilor (The song of the sheep) | Petrica Giurgi, Ioan Pop | 1:44 | |
| 102 | Zîcali de baut (Suite of feast songs) | Petrica Giurgi, Ioan Pop | 7:41 | |
| 103 | Horea miresei (The ritual bride's song) | Petrica Giurgi, Ioan Pop, Marcel Seras | 3:37 | |
| 104 | Music to accompany the marriage ceremony | Petrica Giurgi, Ioan Pop, Marcel Seras | 6:09 | |
| 105 | Hore din Saliste (Song from Saliste) | Petrica Giurgi, Ioan Pop, Marcel Seras | 2:13 | |
| 106 | Suite of dances | Nicolae Griguta, Ioan Pop, inhabitants of Hoteni, Valeni, and Poienile Izei villages | 6:39 | |
| 107 | Music for dancing and singing | Nicolae Griguta, Ioan Pop, inhabitants of Hoteni, Valeni, and Poienile Izei villages | 9:55 | |
| 108 | Suite of songs (hori) and feast songs (de baut) | Nicolae Griguta, Ioan Pop, inhabitants of Hoteni, Valeni, and Poienile Izei villages | 9:43 | |
| 109 | Suite of songs and dances | Nicolae Griguta, Ioan Pop, inhabitants of Hoteni, Valeni, and Poienile Izei villages | 12:32 | |