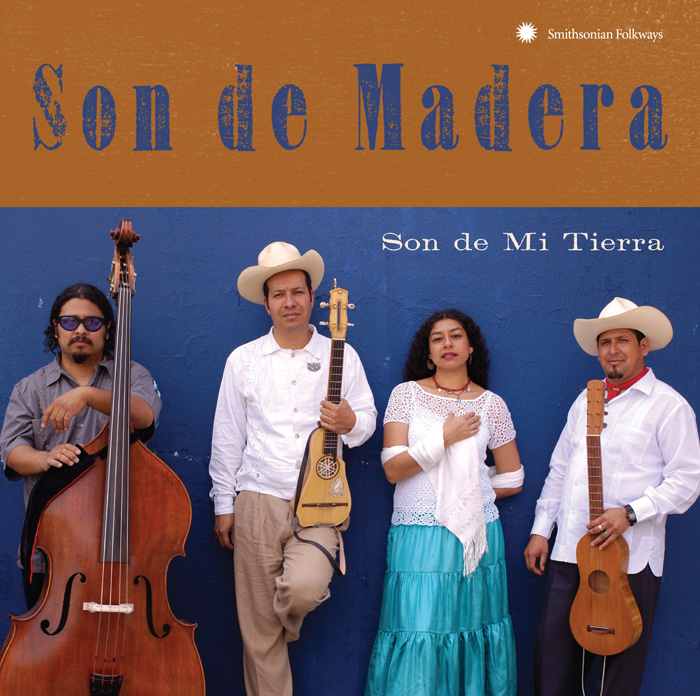 The name of this musical group, Son de Madera (Sound of Wood), plays off the word "son," meaning both "sound" and the son genre, and the fact that their instruments were fashioned from wood (madera). The improvisatory, string-driven music of Veracruz called son jarocho has enjoyed several decades of major resurgence. This "back-to-the-future" recording allies elder farmer and rancher musicians with the next generation of forward-looking innovators who comprise the group Son de Madera. Son de Mi Tierra ("Sound of My Land") burgeons with creativity and reverence for both the old and the new as it draws from rural roots to produce fresh interpretations of this popular Mexican regional music. 13 tracks, 52 minutes, 40-page booklet with extensive bilingual notes and photographs.
RELATED LESSON PLAN
"The Fandango in Son Jarocho: The Community Tradition and Improvisation of Son Jarocho"
RELATED VIDEOS
Cupido
EN ESPAÑOL
Los improvisados toques de cuerdas de la música de Veracruz llamada Son jarocho han disfrutado de varias décadas de gran resurgimiento. Su grabación "regresar hacia el futuro" vincula granjeros mayores y músicos rancheros con la siguiente generación innovadores con visión de futuro, quienes constituyen el grupo Son de Madera.
Son de Mi Tierra madura con creatividad y reverencia para los viejos y los nuevos así como lo saca desde sus raíces rurales para producir interpretaciones frescas de esta música regional popular mexicana. 13 pistas, 52 minutos y 40 páginas de un folleto con extensas notas bilingües y fotografías.
Track Listing