Alerta Sings and Songs for the Playground/ Canciones Para el Recreo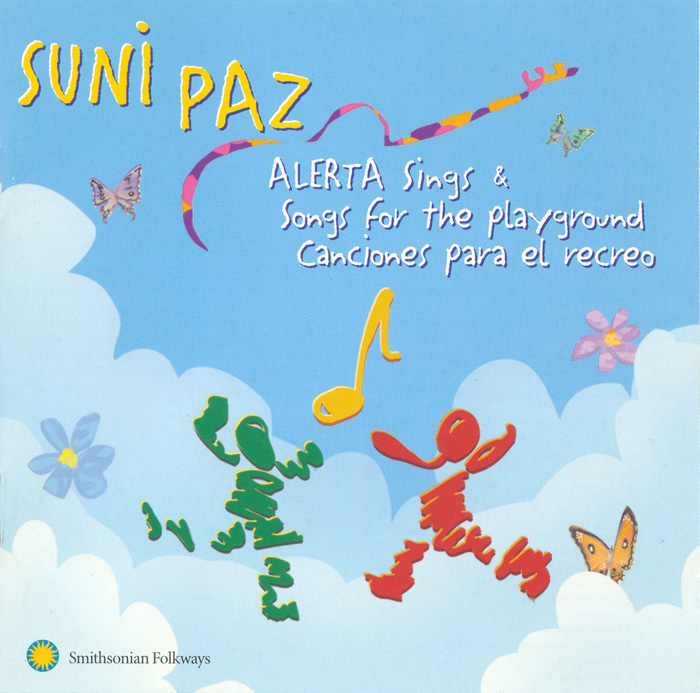 Suni Paz has devoted her career to opening children's minds to new languages and new sounds through music. This release includes two of her acclaimed Folkways children's recordings. ALERTA Sings presents easy-to-learn songs from Latin America and the Caribbean. Canciones para el recreo presents fun songs from Argentina and Chile. Suni is accompanied by children singing and a number of musicians playing Latin American instruments, includng guitar, charango, bombo, cuatro, and afuche. 20-page booklet, lyrics in English and Spanish, 63 minutes.
Suni Paz ha dedicado su carrera a abrir las mentes de los niños a nuevos idiomas y nuevos sonidos a través de la música. Esta obra incluye dos de sus aclamadas grabaciones de música infantil para el sello Folkways. Alerta Signs presenta canciones caribeñas y latinoamericanas muy fáciles de aprender. Canciones para el recreo presenta, por su parte, entretenidas canciones de Argentina y Chile. Suni es acompañada por niños cantando y por algunos músicos que tocan instrumentos comunes en Latinoamérica como la guitarra, el charango, el bombo, el cuatro y el afuche. Cuadernillo de 20 páginas, letras en inglés y en español, 63 minutes.
AWARDS
2000 Parents Choice Approved
Track Listing
| | | | | |
| --- | --- | --- | --- | --- |
| 101 | La Vecinos (The Neighbors) | Suni Paz | 1:42 | |
| 102 | Naranja dulce (Sweet Orange) | Suni Paz | 0:47 | |
| 103 | Tengo una muñeca (I Have a Doll) | Suni Paz | 1:08 | |
| 104 | Little David | Suni Paz | 1:54 | |
| 105 | Dis Lang Time Gal | Suni Paz | 1:19 | |
| 106 | Pizza, Pizza, Daddy-O | Suni Paz | 0:56 | |
| 107 | San Serení (Saint Serení) | Suni Paz | 1:01 | |
| 108 | Andando, andando (Walking, Walking) / Tortitas, tortitas (Cakes, Cakes) | Suni Paz | 1:08 | |
| 109 | Sana, sana (Heal, Heal) / Pon, pon | Suni Paz | 0:51 | |
| 110 | Brown Girl in the Ring | Suni Paz | 1:15 | |
| 111 | Willoughby | Suni Paz | 1:15 | |
| 112 | Room for Rent/Cinderella | Suni Paz | 1:19 | |
| 113 | Mambrú | Suni Paz | 0:59 | |
| 114 | A la limón (To the Lemon) | Suni Paz | 1:15 | |
| 115 | El coquí | Suni Paz | 1:01 | |
| 116 | La rana (The Frog) | Suni Paz | 2:06 | |
| 117 | Noah | Suni Paz | 1:55 | |
| 118 | Head to Shoulders | Suni Paz | 1:20 | |
| 119 | Little Sally Walker | Suni Paz | 1:00 | |
| 120 | ¡Que llueva! (Let it rain!) | Suni Paz | 1:06 | |
| 121 | La pájara pinta (The Polka-dotted Bird) | Suni Paz | 0:55 | |
| 122 | Los números (The Numbers) | Suni Paz | 0:45 | |
| 123 | La manita (The Small Hand) | Suni Paz | 0:34 | |
| 124 | Los animalitos (The Little Animals) | Suni Paz | 0:44 | |
| 125 | Walk Together, Children | Suni Paz | 1:09 | |
| 126 | Hush, Little Baby | Suni Paz | 1:11 | |
| 127 | Punchinella | Suni Paz | 1:12 | |
| 128 | A Sailor Went to Sea | Suni Paz | 1:08 | |
| 129 | Brinca la tablita (Jump the Wooden Beam) | Suni Paz | 0:58 | |
| 130 | Matarile | Suni Paz | 2:14 | |
| 131 | Circle Around | Suni Paz | 0:57 | |
| 132 | Lega la mañana (In the Morning) | Suni Paz | 2:50 | |
| 133 | La gatita Carlota (Kitty Carlota) | Suni Paz | 1:56 | |
| 134 | Los pollitos dicen pío, pío, pío (The Chicks Cry, Cry, Cry) | Suni Paz | 1:14 | |
| 135 | Quenepa (Tree Fruit) | Suni Paz | 2:02 | |
| 136 | Niño lareño (Boy of Lares) | Suni Paz | 2:17 | |
| 137 | El aguila y la paloma (The Eagle and the Dove) | Suni Paz | 3:35 | |
| 138 | Cocorocó | Suni Paz | 1:56 | |
| 139 | Tengo dos cabritillas (I Have Two Mountain Goats) | Suni Paz | 1:11 | |
| 140 | Canción de tomar el té (Song for Tea Time) | Suni Paz | 2:02 | |
| 141 | Resfalosa de mi escuela (Dance of My School) | Suni Paz | 2:14 | |
| 142 | Cuando estoy triste (When I am Sad) | Suni Paz | 1:48 | |
| 143 | Papaloapán (River of Butterflies) | Suni Paz | 1:48 | |
| 144 | Por un ratoncito (The Little Mouse) | Suni Paz | 1:36 | |