Syrian Orthodox Church: Antioch Liturgy
Various Artists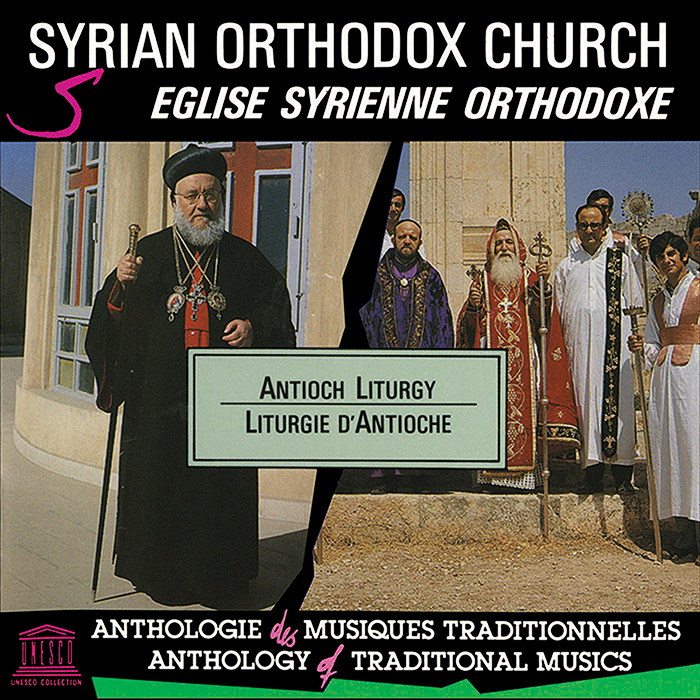 According to ethnomusicologist Christian Poche, the Syrian Orthodox Church (also known as the Syriac Orthodox Church in English-speaking countries since 2000) is one of the oldest Christian churches of the Middle East. Founded in Antioch, the capital of the Roman province of Syria (and now Antakya, Turkey), the church's followers carried their beliefs throughout the Middle East and to the western coast of India. In its liturgy, the church employs the Syriac language, an Aramaic dialect similar to that spoken by Jesus Christ and the Apostles. The liner notes offer a history of the church and its musical traditions, with selections focusing on western Syrian singing.
Poche claims the five oral traditions presented on this recording are: Urfa (in Turkey), "the most prestigious of the traditions"; Amid (now Diyarbakir), which has essentially disappeared; Mardin (in Aleppo); Tagrit (in Iraq); and Tur 'Abdin, which "reflects the golden age of Syriac." The Syrian Orthodox Church uses an oktoechos (set of eight modes) for its qinto (melodies), designating a specific mode for each Sunday and rising by one scale degree each week. These melodies are taken from the bet-gazo (treasure of melodies), a compilation of non-biblical texts used by the deacons.
FREE DOWNLOAD
Please enjoy a free download of the song "Sanctus"
This album is part of the UNESCO Collection of Traditional Music. More than 125 albums are being released by Smithsonian Folkways Recordings to make the series publicly available, including a dozen never-released albums of musical traditions from around the globe.
Track Listing