Tribute
Tribute to Ralph Stanley (1927-2016)
Smithsonian Folkways mourns the passing of bluegrass legend Dr. Ralph Stanley (1927-2016). As one of the patriarchs of bluegrass music, Stanley had an otherworldly voice that seemed to come from deep within his soul. Along with Earl Scruggs, he was an innovator of the banjo sound that has come to define bluegrass to this day; characterized by Alan Lomax as "folk music in overdrive."
Stanley grew up with his brother Carter in the small rural Appalachian town of McClure, Virginia. McClure is located in the Southwest corner "panhandle" of Virginia. It's an area of beautiful rolling hills in the shadow of Clinch Mountain. The area is home to generations of hard-working, deeply religious people with a strong sense of tradition. When Bill Monroe and his Blue Grass Boys first started playing bluegrass, Carter and Ralph—performing as The Stanley Brothers and the Clinch Mountain Boys—followed quickly behind. Their songs came from traditional songs and melodies that they grew up with, coupled with the stark vocal style of the Primitive Baptist Church. They helped define the sound of bluegrass, touring regionally and performing on radio. Carter was the hard-living gregarious front man, while Ralph—the younger of the two—drove the music with his banjo and sang beautiful mountain harmonies.
Video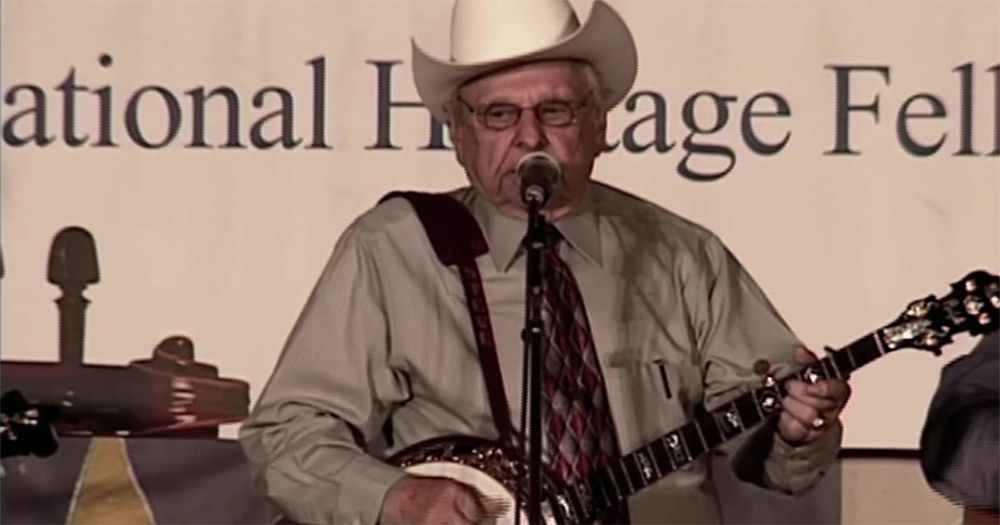 After Carter died in 1966, Ralph considered quitting music, but ultimately decided to carry on without his brother. The Clinch Mountain Boys with Ralph in the lead carried on for the next 50 years. Like many the original bluegrass groups, it was a "talent factory" for younger musicians coming up, and Ralph served as a mentor. Among the members at one time were teenagers Ricky Skaggs and Keith Whitley.
In the early 1960s, bluegrass was passing through a lean period, most of its fans had switched to the "countrypolitan" sound of singers like Eddy Arnold and Jim Reeves. Young folk music fans such as Ralph Rinzler and Mike Seeger embraced bluegrass and started introducing the music to a new urban folk audience. The Stanleys embraced these new audiences, once appearing at a "Friends of Old Time Music" concert in New York City staged by Rinzler, John Cohen, and Izzy Young.
Over the years, Ralph Stanley recorded dozens of albums for small country and bluegrass labels like Starday and Rebel. He was one of the last living members of the "first generation" of bluegrass players. He was bluegrass royalty, playing thousands of shows and festivals where, at the end of the show, it came time for him to take the stage. The audience waited in anticipation of that moment. Among his many performances, Ralph played at the 2003 Smithsonian Folklife Festival on the National Mall in Washington, D.C.
In his later years, Stanley reigned as an elder statesman in his home region, where the yearly Ralph Stanley Festival is held. He is a hero there. He also donated many of his collected objects to the new Ralph Stanley Museum in Clintwood, Virginia. Grammies and other national awards came his way. He was even awarded an honorary doctorate, of which he was very proud.
For most of his career, Ralph Stanley was a very big fish in the smaller musical pond that is bluegrass. He was legendary in that world. Chances are even that non-bluegrass fans, when asked to name a bluegrass musician, might say "Ralph Stanley". In the last fifteen years of his life, he became much more widely known to all of America. When Appalachian music was used in the successful Coen Brothers film, "O, Brother Where Art Thou", the soundtrack—which prominently featured Ralph's music—won the Grammy Award for Album of the Year and ranked as a best-seller. His a cappella version of the old mountain hymn "Conversation with Death" as "Oh Death" was a showstopper. Mainstream America instantly became familiar with the voice of Ralph Stanley. He always made noises about retiring but soldiered on until the very end. Alas, this time, death did not spare him one more year. He will be missed.