¡Cimarrón! Joropo Music from the Plains of Colombia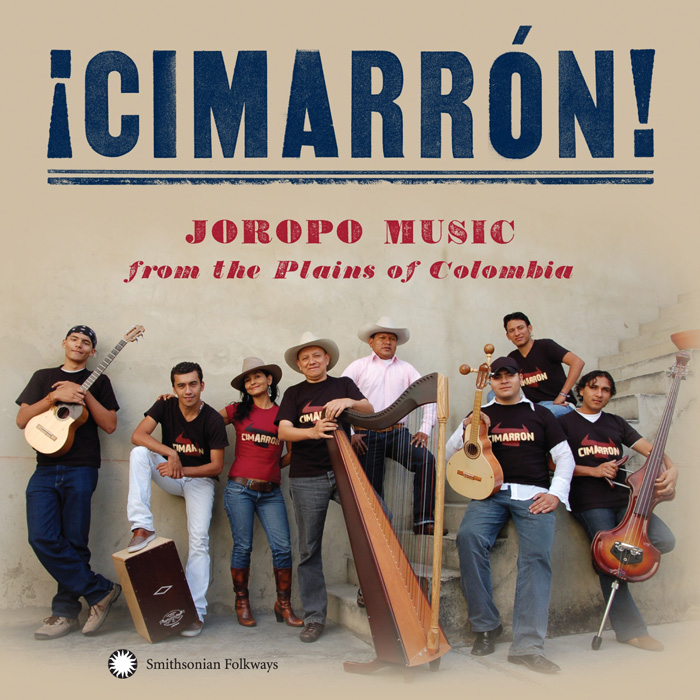 Percussive strings and maracas, dynamic vocal expression, and full-throttle pace earned the joropo of the Orinoco plains of Colombia and Venezuela its place among the most exciting regional musics of Latin America. On this, its second Smithsonian Folkways album, the GRAMMY-nominated and internationally acclaimed Colombian ensemble Cimarrón distills this excitement into a tightly arranged, even more explosive rendition of their tropical tradition. Through their powerful, moody, and unbridled sound, they live up to the meaning of their name Cimarrón—"wild bull." This album is part of the Smithsonian Folkways Tradiciones/Traditions series of Latino music albums, produced with support by the Smithsonian Latino Center.
FREE DOWNLOAD
Please enjoy a free download of "Cimarroneando"
RELATED VIDEOS
Cimarrón Performs "El Guate" (The Foreigner)
Members of Cimarrón discuss Llanero (Plains) Music
Watch additional Cimarrón videos

RELATED LESSON PLAN
On the Plains of Orinoco: Joropo Music in Colombia

RELATED FEATURE
Artist Spotlight - Ana Veydó
RELATED ALBUM
Sí, Soy Llanero: Joropo Music from the Orinoco Plains of Colombia
AWARDS
2011 Independent Music Award for Best Latin Album
EN ESPAÑOL
Las cuerdas percutidas y las maracas, una expresión vocal dinámica y el trote a toda marcha le dieron al joropo de los llanos del Orinoco de Colombia y Venezuela su lugar entre las músicas regionales más excitantes de América Latina.
Sobre esto, el Conjunto Cimarrón nominado al GRAMMY e internacionalmente aclamado, en su segundo álbum de Smithsonian Folkways, destila su entusiasmo en una entrega estrechamente arreglada e incluso más explosiva de su tradición tropical.
A través de su sonido potente, de humor cambiante y desenfrenado, ellos traen a la vida el significado de su nombre Cimarrón – "Toro salvaje".
Este álbum es parte de la serie Tradiciones de música latina de Smithsonian Folkways, producido con el apoyo del Centro Latino de Smithsonian.
Track Listing