Glen Neaves and the Virginia Mountain Boys: Country Bluegrass from Southwest Virginia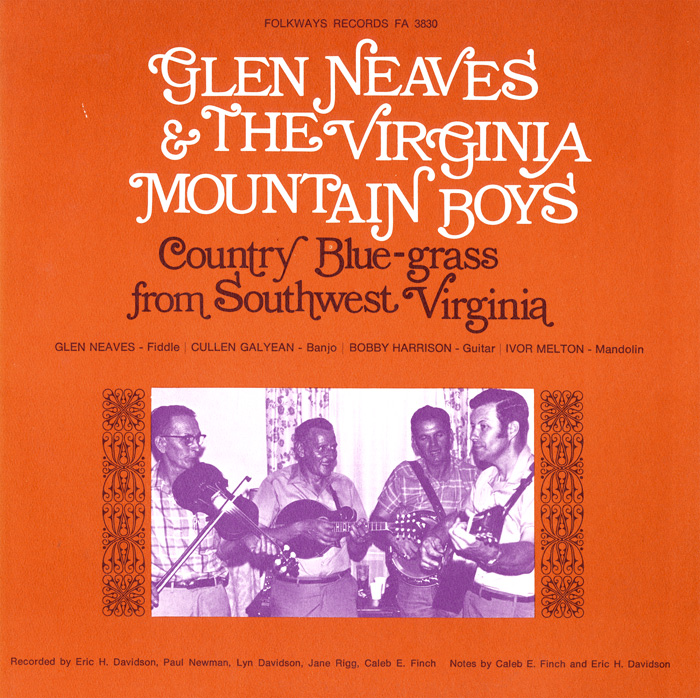 Country Bluegrass from Southwest Virginia is the first in a series of albums recorded by the Virginia Mountain Boys. Even as many commercial bluegrass bands in the 1970s were being influenced by Nashville or folk rock sounds, the Virginia Mountain Boys stuck to the traditional bluegrass sounds that were pioneered decades earlier. Eschewing the Dobro favored by other bands of the time, for example, the band's sound relies heavily on the simple banjo picking and hard-driving rhythm of traditional Appalachian mountain music. Glen Neaves leads with lonesome, bittersweet singing and fiddle playing inspired by G. B. Grayson, a traditional mountain fiddler from North Carolina.
*Content Advisory:
The title and lyrics of track 106 contain derogatory language. While it is offensive to us, we have chosen for the song titles to remain as published and interpreted in the time period in which they were written. We believe that to do otherwise would be to change a historical document. The "n word" was commonplace for a time in history, especially during the era of Jim Crow. Its circulation and popularization through blackface minstrelsy became associated with the identity of Black people in a white supremacist society.
Track Listing