Various Artists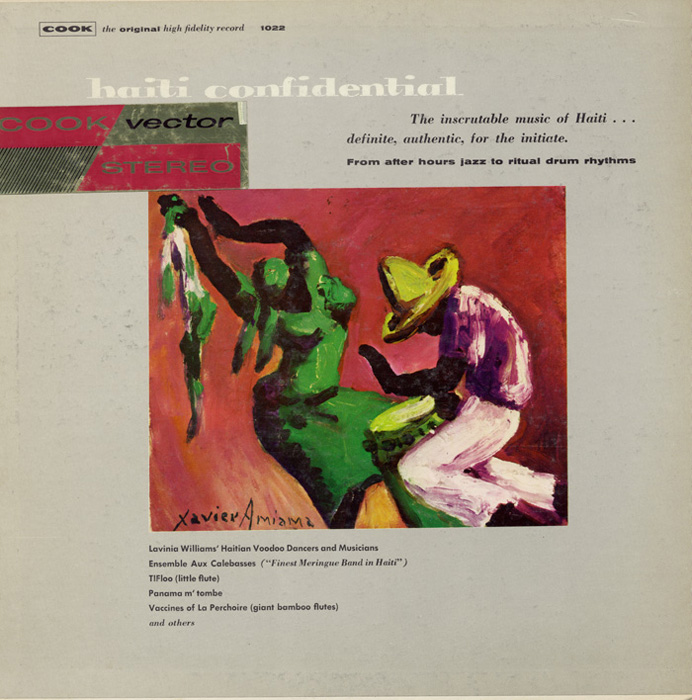 Covering a broad spectrum, this collection includes vodou ritual drumming (using tanbou, a type of drums used for this religious practice of African origin); a jazzy Haitian dance music called meringue that uses trumpets, saxophone, shaker and accordion; and a chorus of bamboo trumpets called vaksin. Performers include the widely recognized Meringue Ensemble aux Calabasses de Nemours Jean-Baptiste, Trio au Chanteclair, baritone Roger Morisseau and the National Folklorique Troop under the joint direction of Lavinia Williams and Jean Remy.

EN ESPAÑOL

Cubriendo un amplio espectro, esta colección incluye los tambores del ritual vudú (usando tanbou, un tipo de tambor que se utiliza para esta práctica religiosa de origen africano), una danza haitiana con ritmo de jazz llamada meringue, que utiliza trompetas, saxofón, maracas y acordeón, además de un coro de trompetas de bambú llamado vaksin.

Los artistas incluyen al ampliamente reconocido Conjunto de merengue aux Calabasses de Nemours de Jean-Baptiste, al Trio au Chanteclair, al barítono Roger Morisseau y a la Tropa Nacional Folclórica bajo la dirección mixta de Lavinia Williams y Jean Remy.
Track Listing
| | | | | |
| --- | --- | --- | --- | --- |
| 101 | A youiyo | Lavinia Williams Haitian Voodoo Dancers and Musicians | 3:06 | |
| 102 | La Covee | Lavinia Williams Haitian Voodoo Dancers and Musicians | 3:03 | |
| 103 | Juba | Lavinia Williams Haitian Voodoo Dancers and Musicians | 5:36 | |
| 104 | Congo | Lavinia Williams Haitian Voodoo Dancers and Musicians | 2:40 | |
| 105 | Contra Danse | Lavinia Williams Haitian Voodoo Dancers and Musicians | 6:28 | |
| 201 | Danse Tresse-Ruban | Lavinia Williams Haitian Voodoo Dancers and Musicians | 3:18 | |
| 202 | A Tioupoutiou | Meringue Ensemble Aux Calabasses de Nemours Jean-Baptiste | 5:12 | |
| 203 | Panama m'Tombe | Trio Au Chanteclair | 3:55 | |
| 204 | Paulette | Roger Morisseau and combo | 1:20 | |
| 205 | Voodoo Danse | Vaccines of La Perchoire | 4:40 | |
| 206 | Alphabet Song | 45 schoolboys | 2:14 | |