La Bamba: Sones Jarochos from Veracruz
José Gutiérrez & Los Hermanos Ochoa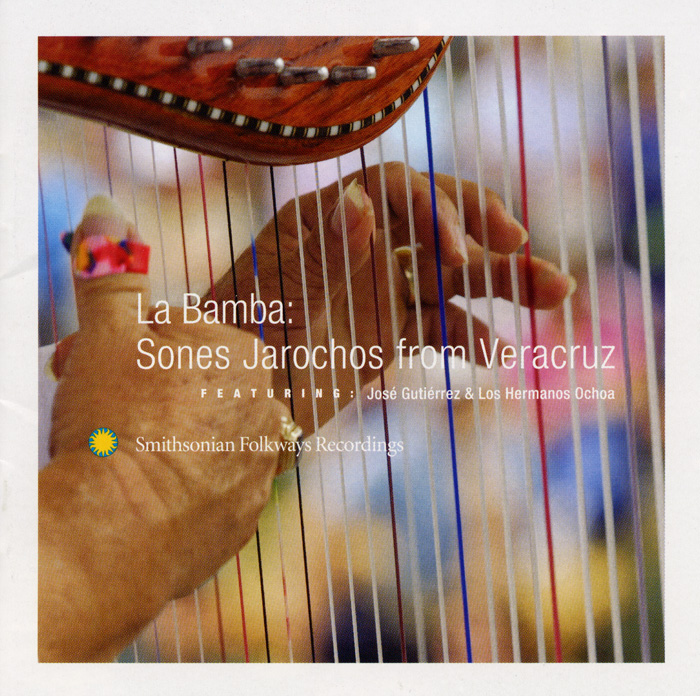 Jarocho (hah-ROH-cho) describes both the people and culture of the southern coastal plain of Veracruz, home for more than two centuries to one of Mexico's most exciting musical traditions, the son jarocho. Songs such as "La Bamba," "Cascabel," and "Siquisirí" occupy a major spot in Mexico's musical folklore. José Gutiérrez, Felipe Ochoa, and Marcos Ochoa, raised on the tropical ranchos of Veracruz's interior, are three of the most accomplished ambassadors of the modern-day son jarocho tradition. They play complex, hard-driving rhythms on the Veracruz harp and on the guitars called jarana and requinto, and sing high-pitched vocal melodies brimming with wit and regional pride. They have toured Europe, the United States, Central America, and Mexico, while in Veracruz they continue to enliven weddings, baptisms, public events, and celebrations of all kinds. Extensive notes in English and Spanish.
LYRICS
Lyric transcriptions available here.
RELATED LESSON PLAN
Son Jarocho from Veracruz: Exploration of Music and Dance Forms
RELATED VIDEO
"La Bamba"
EN ESPAÑOL
El Jarocho describe la gente junto con la cultura de la llanura costera del sur de Veracruz, hogar por más de dos siglos de una de las tradiciones musicales más emocionantes de México, el son jarocho.
Canciones como "La Bamba", "Cascabel" y "Siquisirí", ocupan un lugar importante en la tradición musical de México. José Gutiérrez, Felipe Ochoa y Marcos Ochoa, criados en los ranchos tropicales del interior de Veracruz, son tres de los embajadores más destacados de la tradición moderna del son jarocho.
Ellos tocan ritmos complejos y enérgicos en el arpa de Veracruz y en las guitarras llamadas jarana y requinto, y cantan melodías vocales agudas que rebosan de ingenio y orgullo regional.
Ellos han hecho giras por Europa, Estados Unidos, América Central y México, mientras que en Veracruz continúan animando bodas, bautizos, eventos públicos y celebraciones de todo tipo. Notas extensas en inglés y español.
Track Listing