Songs and Dances of the Basque (Euzkadi)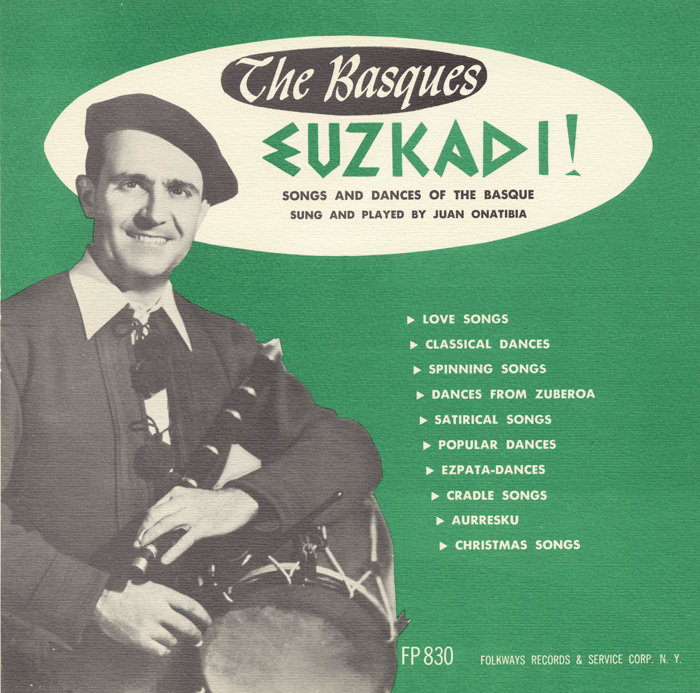 Juan Onatibia performs songs from the Basque region. Most of the songs are forms of traditional dances such as the Aurresku (courting dance) and the Ezpata (sword dance). The songs are mostly performed with no singing on the txistu (a flute) and the tun-tun (small drum) which "constitute the Basque Orchestra. Both instruments are played by the same interpreter known as txistulari, forming a one-man band." The album also includes several sung songs (with no accompanying instruments) about animals, work and so on. Onatibia introduces history of Basque music in the liner notes.
EN ESPAÑOL
Juan Onatibia interpreta canciones de la región vasca. La mayoría de las canciones son formas de bailes tradicionales como el aurresku (danza de cortejo) y la Ezpata (danza de la espada). La mayoría de las canciones son realizadas sin cantar en la txistu (flauta) y el tun-tun (tambor pequeño), que "constituyen la orquesta vasca. Ambos instrumentos son interpretados por el mismo intérprete conocido como txistulari, formando una banda de un solo hombre"
El álbum también incluye varias canciones cantadas (sin instrumentos acompañantes) sobre animales, trabajo, etc. Oñatibia presenta la historia de la música vasca en las notas.
Track Listing