Mountain Music of Peru, Vol. 2
Various Artists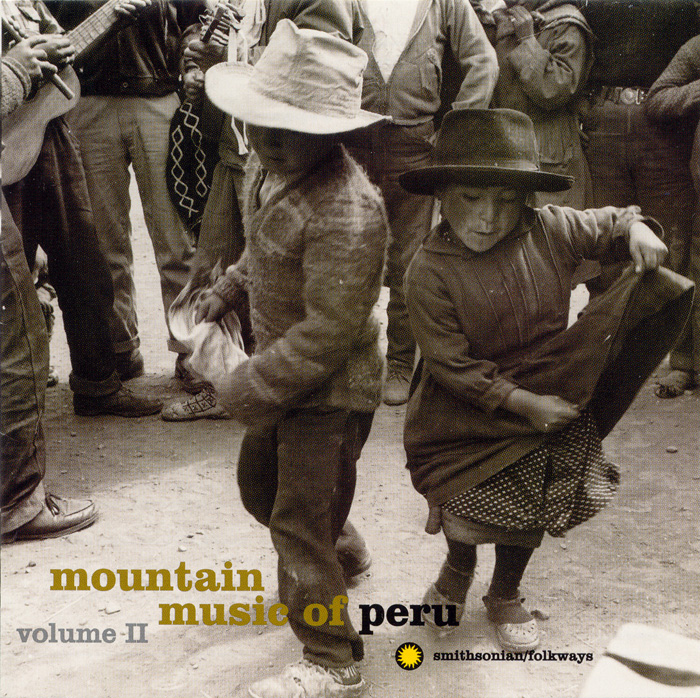 This recording contains music of the Andean people as performed in their own communities. It contains stunning panpipe ensembles and a wide variety of vocal and instrumental styles. A single festival from the Mantaro Valley is documented here plus the panpipe, flute, and takara music of the Aymara, as featured in Tom Turino's book, Moving Away from Silence. 29 tracks. "Interesting listening, a contrast to everyday fare." — Sing Out!

EN ESPAÑOL

Esta grabación contiene música de los pueblos andinos como es interpretada en sus propias comunidades. Contiene impresionantes conjuntos de zampoña y una amplia variedad de estilos vocales e instrumentales.

Un festival único del Valle del Mantaro es documentado aquí, además de la zampoña, la flauta y la música Takara de los Aymara, como aparece en el libro de Tom Turino, Alejándose del silencio. Veintinueve pistas. "Se escucha interesante, un contraste del pan de cada día." – para gritar!
Track Listing
| | | | | |
| --- | --- | --- | --- | --- |
| 101 | Corneta de Cachu (Cowhorn Trumpet) and Metal Trumpet | n/a | 0:53 | |
| 102 | Women Sing at Sacsamarca near Huancavelica | n/a | 1:17 | |
| 103 | Women Sing Chirimoya at Sacsamarca | n/a | 2:26 | |
| 104 | Wooden Tube Trumpet, Drum and Singing at Pucara, Huancayo | n/a | 1:14 | |
| 105 | Flutes and Singers at Concurso Radio Broadcast, Huancayo | n/a | 3:12 | |
| 106 | Guitar, Fiddle, Man Sings at Concurso | n/a | 2:25 | |
| 107 | Fiddle, Young Girl Sings at Concurso | n/a | 3:00 | |
| 108 | Trumpet, Woman Sings, Fiddles, Dancers at Concurso | n/a | 3:47 | |
| 109 | Fiddle and Saxophone at Concurso | n/a | 1:17 | |
| 110 | Street Band: Clarinets, Saxophones and Harps at Huancayo | n/a | 2:10 | |
| 111 | Woman and Tinya: Belaunde and Haya de la Torre | n/a | 3:46 | |
| 112 | Music from Carnival: Three Flutes and a Drum | n/a | 1:02 | |
| 113 | Song of Lake Titicaca (Three Women) | n/a | 1:26 | |
| 114 | Music from the Choquela Ceremony | n/a | 2:19 | |
| 115 | Los Jilacatas: Panpipes from Chimo | n/a | 2:47 | |
| 116 | Love Song of the Animals (Charango and Men) | n/a | 3:27 | |
| 117 | Lullaby (One Woman) | n/a | 0:44 | |
| 118 | Song for a Dead Baby (Charango, Woman and Man) | n/a | 1:25 | |
| 119 | Que Vamos a Lago (Charango, Woman and Man) | n/a | 2:06 | |
| 120 | Choquela Cermony | n/a | 2:58 | |
| 121 | Singing, Flutes and Drums at Lakeshore, Chimo | n/a | 1:12 | |
| 122 | Qhantati Ururi: Easter Music | n/a | 6:03 | |
| 123 | Qhantati Ururi: Social Dance | n/a | 3:17 | |
| 124 | Tarkas de Putina: Carnival Music | n/a | 2:29 | |
| 125 | Pitus de Cambria: Fiesta de la Cruz | n/a | 2:34 | |
| 126 | Pinkillus de Lloquesani: Carnival Music | n/a | 4:50 | |
| 127 | Chiriguanos de Huancané: Fiesta de la Cruz | n/a | 2:39 | |
| 128 | Pinkillus de Acora: Carnival Music | n/a | 2:37 | |
| 129 | Centro Social Conima, 1986: Manuelita | n/a | 4:47 | |