Nobuko Miyamoto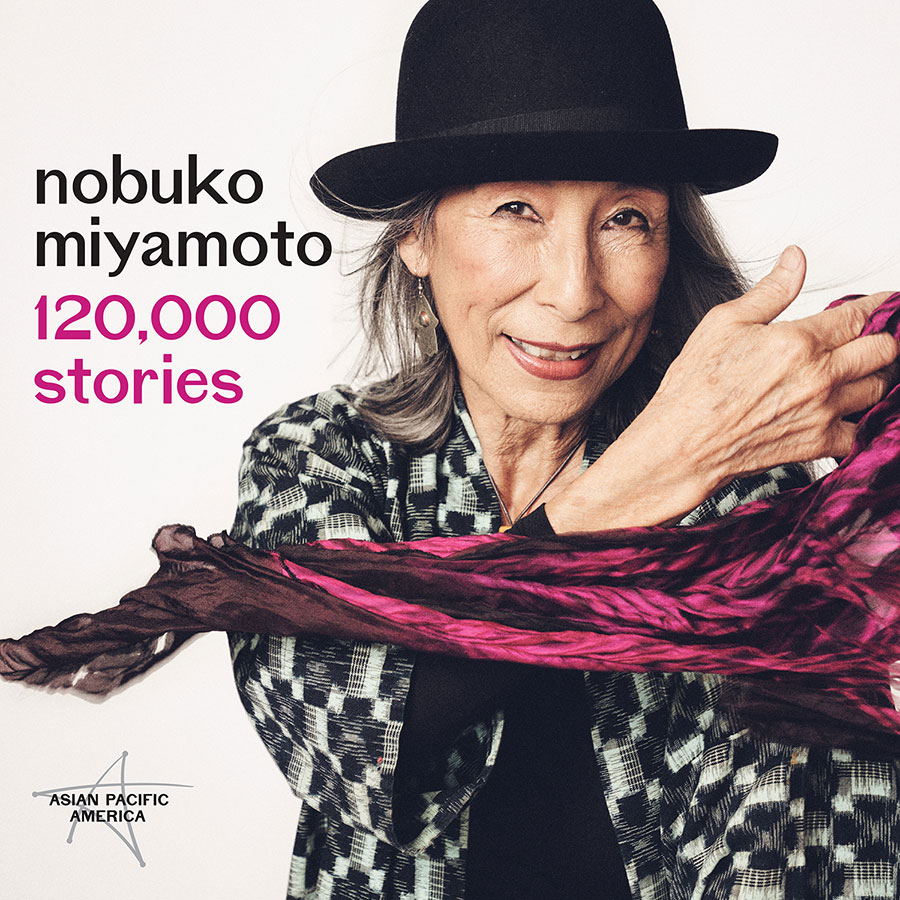 Nobuko Miyamoto is an icon of Asian American music and activism. Since the early 1970s, she has been exploring ways to reclaim and respirit our minds, bodies, histories, and communities, using the arts to create social change and forge solidarity. 120,000 Stories collects powerful new songs, reinterpretations of old ones, and recordings from across her career, including from the seminal 1973 album A Grain of Sand and the band Warriors of the Rainbow. These songs speak to past and present struggles—for self-determination, Black Lives, the environment. They chronicle difficult histories, they celebrate resilient traditions, and most of all, they endeavor to connect communities.
RELATED VIDEOS
Making 120,000 Stories, March 12, 2021 panel featuring Nobuko Miyamoto and album producers Quetzal Flores and Derek Nakamoto
Watch the video for "What Time Is it on the Clock of the World?"
Track Listing
| | | | | |
| --- | --- | --- | --- | --- |
| 101 | We Are the Children | Nobuko Miyamoto feat. Derek Nakamoto | 4:16 | |
| 102 | Not Yo' Butterfly | Nobuko Miyamoto feat. Tylana Enomoto | 4:19 | |
| 103 | Gaman | Nobuko Miyamoto feat. Derek Nakamoto | 6:27 | |
| 104 | Tampopo (Dandelion) | Nobuko Miyamoto feat. Kenny Endo | 6:08 | |
| 105 | Somos Asiáticos | Nobuko Miyamoto feat. Martha González, Gabriel González, Cava González Miranda | 5:26 | |
| 106 | Ichigo Ichie | Nobuko Miyamoto feat. Kenny Endo | 4:37 | |
| 107 | What Is the Color of Love? | Nobuko Miyamoto feat. Gerald Albright | 7:26 | |
| 108 | 120,000 Stories | Nobuko Miyamoto feat. Mike Penny, George Abe | 5:02 | |
| 109 | Meditation on a Lotus | Nobuko Miyamoto feat. Tex Nakamura | 8:31 | |
| 110 | Black Lives Matter | Nobuko Miyamoto feat. Gerald Albright | 5:59 | |
| 111 | What Time Is It on the Clock of the World? | Nobuko Miyamoto feat. Juan A. Pérez, Tex Nakamura | 3:49 | |
| 112 | To All Relations / Tala'a 'l-badru 'alaynā | Nobuko Miyamoto, Asiyah Ayubbi | 3:03 | |
| 201 | Yellow Pearl | Chris Kando Iijima, Nobuko Miyamoto, Charlie Chin | 3:02 | |
| 202 | Free the Land | Chris Kando Iijima, Nobuko Miyamoto, Charlie Chin feat. Attallah Ayyubi, Mutulu Shakur | 3:36 | |
| 203 | West to East | Nobuko Miyamoto, Benny Yee feat. Russel Baba | 5:04 | |
| 204 | Beckoning | Nobuko Miyamoto, Russel Baba feat. Benny Yee | 3:31 | |
| 205 | American Made | Nobuko Miyamoto | 5:10 | |
| 206 | English Lesson | Young Ae Park, Nobuko Miyamoto | 6:20 | |
| 207 | Pilipino Tango | Jose De Vega, Nobuko Miyamoto | 7:23 | |
| 208 | To All Relations (Mitakuye Oyasin) | Nobuko Miyamoto feat. Duncan Pain, Francis Awe | 6:24 | |
| 209 | Fortunata | Nobuko Miyamoto feat. June Kuramoto, Jesse Acuna | 6:30 | |
| 210 | Yuiyo Bon Odori | Nobuko Miyamoto feat. George Abe | 3:48 | |
| 211 | Mottainai | Nobuko Miyamoto feat. Nancy Sekizawa, Carla Vega | 3:37 | |
| 212 | Cycles of Change | Nobuko Miyamoto, Martha González feat. Quetzal | 4:27 | |
| 213 | Bam Butsu, No Tsunagari (10,000 Things, All Connected) | Nancy Sekizawa, César Castro, Nobuko Miyamoto feat. Rev. Masao Kodani, Martha González | 6:26 | |