Various Artists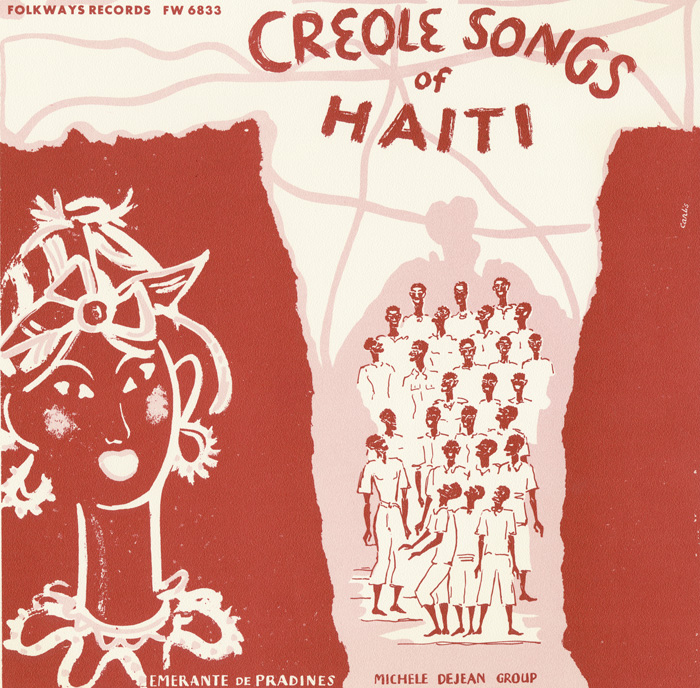 This recording combines vocal interpretations of Vodou (an Afro-Haitian religion) ceremonial songs and popular secular melodies by legendary Haitian singer, dancer and folklorist Emerante de Pradines and the all-male folklorique chorus Michele Dejan Group. Recorded by Harold Courlander during the 1940s mouvement folklorique—a period revaluing the traditional arts and practices of the Haitian peyizan (peasants), de Pradines maintains a traditional troubadour-like performance of songs while the Michele Dejan Group arranges all traditional tunes into liturgical or full chorale settings.
EN ESPAÑOL
Esta grabación combina interpretaciones vocales de vudú (una religión afro-haitiana), canciones ceremoniales y melodías seculares populares hechas por el legendario cantante, bailarín y folclorista haitiano Emerante de Pradines y el grupo del Coro folclórico masculino Michele Dejan.
Grabado por Harold Courlander durante el movimiento folclórico de la década de 1940 -un período de revalorización de las artes y prácticas tradicionales del Peyizan haitiano (campesino, para los haitianos), de Pradines mantiene un rendimiento tradicional trovador- en la presentación de canciones, mientras que el Grupo Michele Dejan adapta todas las melodías tradicionales con ajustes litúrgicos o totalmente corales.
Track Listing